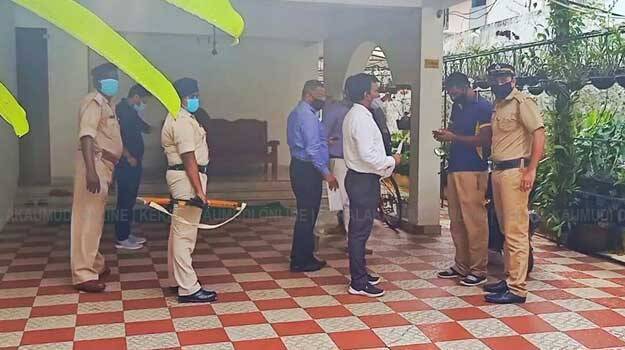 THIRUVANANTHAPURAM: ED's raid in Bengaluru drugs case accused Bineesh Kodiyeri's home is ongoing. A six-member probe team from ED reached at Bineesh's home in Maruthankuzhy by today morning at 9 am. But the home looked deserted and nobody was there. As the key was not available the probe team could not enter inside the building. After that they talked with Bineesh's relatives and at last, his wife came with the key and it was opened for officials for the raid.

The raid is being conducted by ED under the security cover of 15 CRPF Jawans and Karnataka police. As of now, Kodiyeri Balakrishnan and his family are not residing at the home. When Bineesh went into ED's custody for questioning in connection with the drug trade case Kodiyeri and his family shifted their residence to the flat situated opposite to AKG centre, owned by CPM.

ED has found out that Bineesh has conducted black money transaction worth Rs 5.17 crore between 2012 and 2019. The eight-member ED probe team came from Bengaluru to Thiruvananthapuram to conduct raids in Bineesh's residence, in his office and also in his business partner's residence and office. Today apart from his residence, raids are also conduced in six firms with which Bineesh have direct links.

ED's most important aim is to unravel Bineesh's business ties through these raids. While questioning he has conceded to the fact that large sums of money were transacted through his accounts but he hasn't revealed the source of this money. ED has also found glaring disparities in his I-T returns.