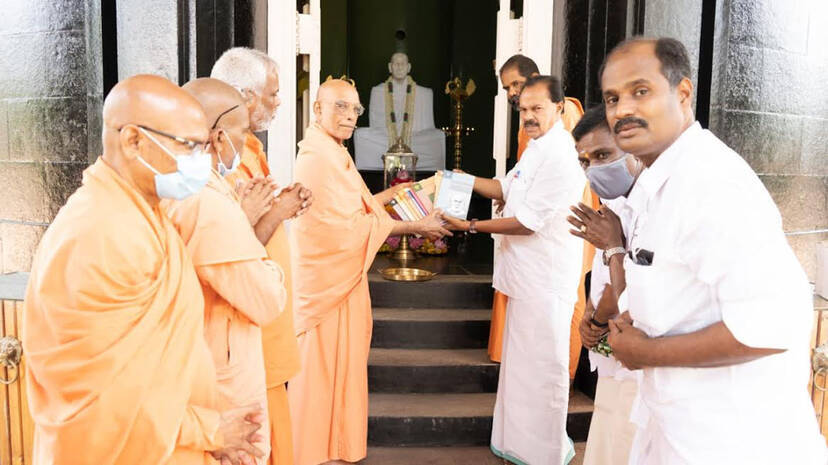 SIVAGIRI: PT Thomas MLA presented a biography of Sree Narayana Gurudevan published by the Kendra Sahitya Akademi in Hindi, English, Malayalam, Kannada, Kongini, Marathi, Nepali, Punjabi, Tamil, Telugu and Urdu to Sree Narayana Dharma Sangham Trust President Swami Vishudhananda at Sivagiri.
PT Thomas, who was the Idukki MP in 2009-2014, had presented a submission in Parliament requesting that all the discovered works of Sree Narayana Gurudevan be translated into all the languages ​​of India and that all Indians be given an opportunity to know about the Guru. The then Prime Minister Dr. Manmohan Singh replied and handed over the responsibility to the Kendra Sahitya Akademi. As its first phase, the Kendra Sahitya Akademi published the biography of Sreenarayana Gurudeva written by Dr. T. Bhaskaran in Malayalam in 11 languages ​​including Malayalam. Those books were handed over by PT Thomas at Sivagiri with the pleasure of fulfilling a historic mission.
Dharma Sangham Trust General Secretary Swami Sandrananda, Treasurer Swami Shardananda, Dharmasangham Trust Board Members Swami Ritambharananda, Swami Vishalananda, Swami Shivaswarupananda, Adv. S Joshi, PS Baburam and Reji Asharipparambil were also present.