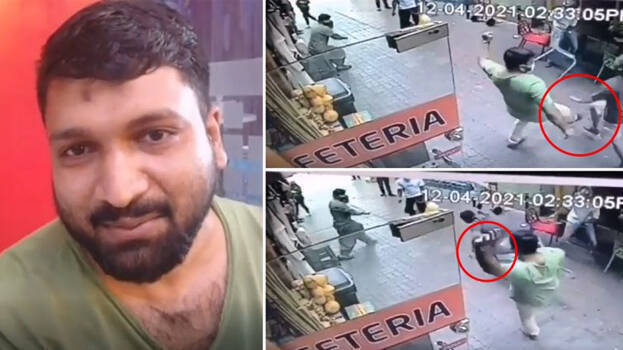 DUBAI: Malayalee youth Jafar has risen to stardom among gulf Malayalees after he foiled the theft bid of a burglar. Due to the timely intervention of Jaffer, who hails from Vadakkara, the owner has received back more than Rs 80 lakh which he lost in the blink of his eye. Jaffer who thrashed the running thief with a blow at his leg, with his feet later received the support of nearby people to nab the thief.
The incident held at the gift shop near the Baniya Square Land in Mark Hotel. Jafar who came to the gulf on a visiting visa was working as a helper in his relatives' juice shop. Suddenly, his other relative Najeeb Thoduvayil cried out… thief, somebody catch him. When Jaffer went outside the shop, he saw the thief running towards him. Jaffer just extended his feet towards the running track of the thief and the thief fell down after his leg got kicked by Jaffer's feet.
The thief who fell down again attempted to run but the people in nearby area caught him. Sources say the money belongs to an Indian who went to a bank to deposit. Jaffer, who is a football player too, said that instead of running behind him, he thought it is better to bring him down by kicking his leg.
Jaffer who was working as a driver in Sheikh Bin Sayyid Al Nahyan in Alain has come to Dubai to start a new job. Mother: Jasmine, Wife: Haseena, Children: Neda, Neha and Muhammed Nahyan.