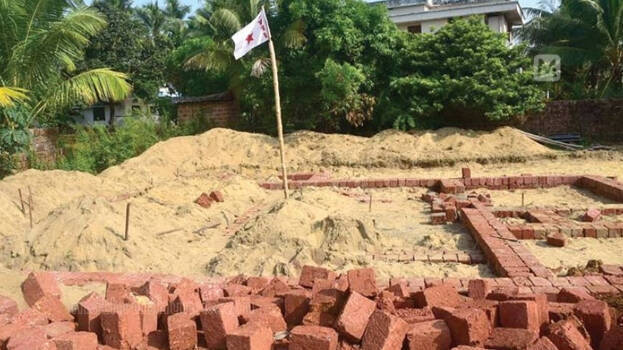 KASARGOD: Police have registered cases against eight DYFI activists for erecting their party flag after destroying the floor and shed of a house under construction. The incident held in the Chaliyam Nayil area in Ajanoor Panchayat. Cases have been registered against Lipin from Ittamal, Sujith, Kittu and five familiar persons. In the FIR registered against them, it is said that the gang barged into the home and caused destruction worth Rs 50,000 and those who went to question them was threatened and sent back. The flag was erected on Saturday. When the incident became controversial, party activists themselves removed the flag.
Meanwhile, the owner of the plot, V M Rasiq says that the floor and shed were destroyed as he didn't give the amount demanded by him to the party's election fund. Though in the complaint he has said that the land does not come under data bank and he has permission from the panchayat for construction, he had not mentioned the incident of 'fund demand' in the complaint.
Whereas DYFI says that they had not demanded any financial contribution from the plot owner. DYFI activists also said the plot being used for construction was a paddy field and they have submitted a complaint before the district collector bearing the signatures of the people. The district committee of the organisation has also informed that the incident happened as part of protests against constructions in agricultural land. The district committee also alleged that the Muslim League leader is trying to build a home in agricultural land along with the help of media.