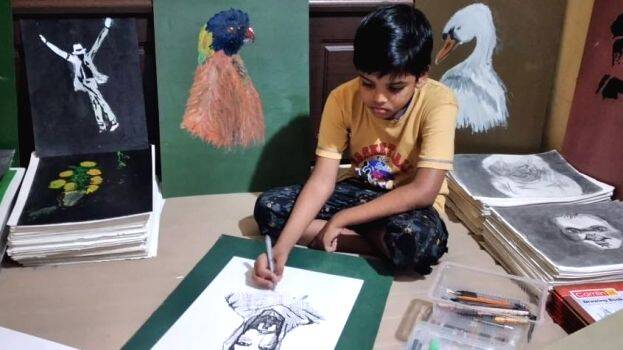 KANNUR: Hershell Deepte's baby fingers ran on the scraps of paper and on the walls of his house. New views unfolded in the imagination developed over the ages. The nine-year-old has painted 3,000 paintings in the last four years.
Hershell's color palette turned into a wonder very quickly. Parents and relatives were delighted seeing this. They told their son new stories about the world and the lives of great people. Hershell quickly became a fan of Picasso and Van Gogh. Hershell did not draw rivers, mountains, markets or festivals like ordinary children. Karl Marx, Einstein and Sigmund Freud all flourished at the fingertips of Hershell Deepte, who can be described as another Clint.
Hershell is the only son of TP Bineesh, a teacher of Vadakara Govt. Higher Secondary School and P Mahija, an official of Coorg Coffee Board. He entered the world of colors at the age of three. He is currently a fourth class student of Chompal LP School.
He has not formally studied painting. Jungle and wildlife were his subjects when Hershell started living with his mother in quarters in Wayanad. He has drawn former President Dr. Rajendra Prasad to President Ramnath Kovind and from Jawaharlal Nehru to Narendra Modi. In addition to world leaders, sports stars, scientists, politicians, writers and film stars, he drew paintings of cartoon characters, parents, relatives and friends. There are many pictures of M Mukundan, who lives in the nearby area of ​​Mahe.
In addition to oil, watercolor and acrylic, he also paints with pencils and pens. 2000 paintings were made during the lockdown. Most of the rare pictures were born after 10 pm. Parents want their son's pictures to be displayed to the public without being ruined.