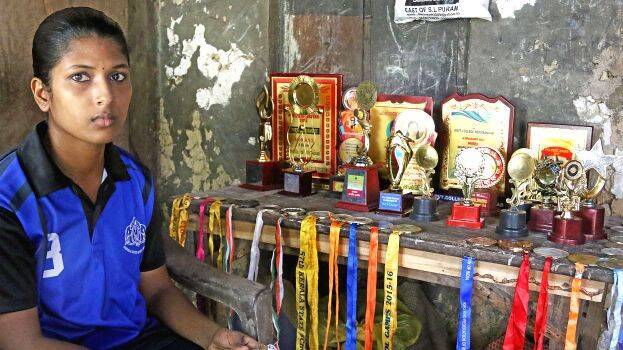 THIRUVANANTHAPURAM: Kerala's Kho kho star Akhila is now afraid of overnight rain. The condition of her house is so bad that it might collapse if the rain gains strength. A part of her mud house got destroyed after an areca palm tree fell on top of it following heavy rain and wind. Akhila and her family are concerned about the fragile condition of the house. The family is living in Kurakkada near Mangalapuram in Thiruvananthapuram.
Akhila's father Sunilkumar, a low-wage worker, and mother Sindhu are finding it difficult to earn the money required for their daughter's education expenses. Moreover, they also have to look after Sindhu's ailing parents. Akhila is studying Bachelor of Physical Education at Calicut University. Though Sunilkumar had sought the help of several people to help him construct a house in his 5 cents of land, he did not receive any help. The application submitted to Mangalapuram panchayat four years ago for inclusion in the Life scheme also got rejected. After seeing the roof tiles of the house, the officials who came to inspect the house felt that the family was not eligible to be included in the Life scheme. However, the officials turned a blind eye to the fact that the roof was covered with tarpaulin and sheets as the number of unbroken tiles was very small. Akhila has submitted an application to the Chief Minister and is hoping that her dream for a house will soon get fulfilled. Her medals and trophies are wrapped in paper and kept in an old box.
Akhila, who became a member of the state kho-kho junior team while studying in eighth class, is now a member of the state senior team and the Kozhikode University team. She also participated in the Indian team camp for South Asian Games.