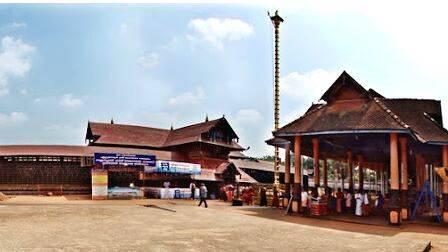 KOTTAYAM: Minister VN Vasavan has said that the disappearance of gold pearls from the Thiruvabharanam at the Ettumanoor Mahadeva temple is serious. Nine pearls in a gold-encrusted Rudraksha necklace are missing. A vigilance investigation has been launched into the incident. The Devaswom Board sought a report from the temple committee. Devaswom Board President N Vasu said action would be taken against the officials. The temple advisory council also came forward to demand criminal action against the culprits.
The Devaswom Board has found that the necklace containing 81 gold-encrusted Rudraksha gems is missing. The necklace weighed close to four sovereigns. An inspection conducted when the new melsanthi took charge last month found another necklace containing 72 rudrakshas. A month after the disappearance of the necklace, the Devaswom Board President and others were unaware of it. The advisory committee explained that the information had already been communicated to the Devaswom Board. There is demand that devaswom officials' role in the incident should be investigated. It is alleged that the Devaswom Board and the Advisory Board are colluding on the issue.
The new melsanthi took charge last month. Melsanthi demanded that all the materials related to the pooja be attested in the presence of the Devaswom authorities. Based on this, Devaswom came to know about the loss of the chain during the inspection in the presence of the Assistant Commissioner and other officials.