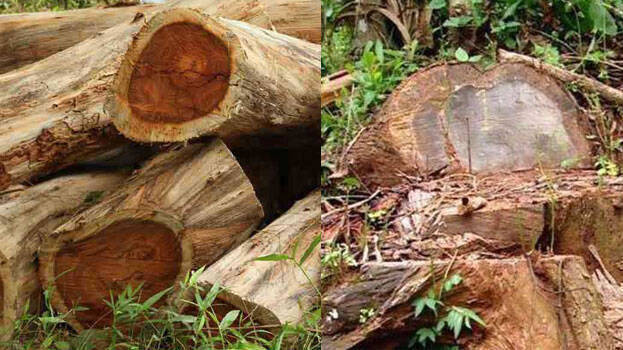 THIRUVANANTHAPURAM: The Forest Vigilance team's investigation report has revealed that the controversial order of the Revenue Department and the instructions of the Revenue officials were the cause of the looting of trees in various parts of the state. The report, which was submitted to the government by Chief Forest Conservator (Vigilance) Gangasingh on June 25, surfaced recently under the Right to Information Act. According to the report, 2248 teak trees and 171 rosewood trees were illegally cut down.
Findings
483 permits were issued for felling trees on the assigned land. In most places, trees were cut down on the basis of a no-obligation certificate issued by the Revenue authorities.
The highest number of trees were cut down from the Neryamangalam range - 643 teaks. Machad range - 429, Adimali - 281, Pattikkad - 181, Thattekkad - 152 and Mullaringad - 120. Most of the lost teak trees are from Neryamangalam. The highest number of rosewood trees were cut down from Wayanad Meppadi Range - 106. The tree felling took place within the confines of 28 forest range offices.
Up to 5 teak trees were cut down in Adimali using a single permit. Permits to cut down 18 giant rosewood trees were issued after the October 24 order was revoked.
In Wayanad, the rosewood trees were cut down on the basis of the certificate obtained from the village officers. 60 teaks were cut down from Sultan Bathery without permission.
Above 100 cubic meters of wood was cut down in the Neryamangalam, Machad and Adimali ranges. In Wayanad, Muttil South Village Officer is fully responsible for tree felling.
In Adimali the Range Officer and various Village Officers are responsible. 8 passes were issued by the Adimali Range Officer without any document. The Range Officer also issued 18 permits after the order was revoked.
The Machad Range Officer issued 35 permits even though it was clear that the treese were on the assigned land. 5 permits were issued after the order was revoked. In Pattikad range, 13 permits were issued illegally.