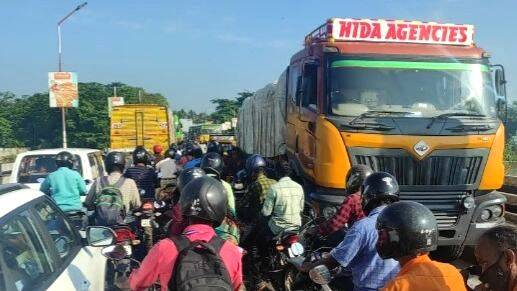 KOLLAM: A freight lorry ran out of diesel at Neendakara bridge on the National Highway, causing traffic congestion for about five hours. A lorry of a private construction company based in Karunagapally, which was going to Thiruvananthapuram from Alappuzha, got stuck on the bridge at 8 am yesterday. An hour and a half later, the lorry was towed away by police, but traffic was only restored to normalcy at about one o'clock.
The first attempt to push the vehicle failed because the braking system was blocked. As the National Highway is the only way out of Kollam city, hundreds of vehicles were stranded. A police team led by City Police Commissioner T Narayanan reached the spot and pulled the vehicle off the bridge.
KSRTC and private buses to Karunagapally and back to Kollam stopped service on both sides of the bridge. The journey of those including the students was hindered. KSRTC limited-stop buses to Pathanamthitta via Sankaramangalam ran via Anchalummoodu and Kundara. Most of the services between 8 and 10 in the morning were cancelled. Under the leadership of Kollam and Karunagapally ACPs, traffic was restored with the help of a large contingent of police from Anchalummoodu, Shakthikulangara, Kollam East, West, Chavara, Karunagapally and Neendakara coastal police stations.
The bridge is 425 meters and the alternative is 50 kilometers!
The bridge over the area where Ashtamudi Lake meets the sea at Neendakara Harbor is 425 meters long. If you get stuck on the bridge, you have to travel around 40-50 km to reach the other side! The demand for another lane parallel to the bridge is years old.