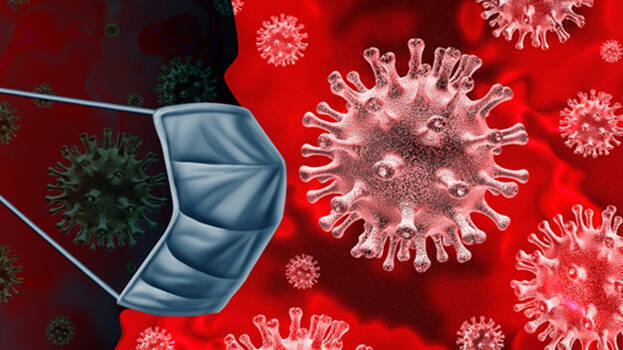 THIRUVANANTHAPURAM: With the spread of the Omicron variant of the coronavirus, the authorities are being forced to consider imposing more restrictions in the state at the very beginning of the third wave of Covid. The government may soon tighten social distancing norms in public places.
Kerala had witnessed a second wave peak in May last year. During this period, the test positivity rate (TPR) stood at 29.75. However, as the state is entering the initial stage of the third wave, the TPR has risen to 35.27 percent. It must be noted that the TPR stood at 14.18 percent last week. It is high time for the public to remain self cautious.
A nursing officer of Varkala taluk hospital died of Covid on Tuesday. The deceased has been identified as Varkala native PS Saritha (45) who was working at the Kallara primary health centre.
A number of employees of the state secretariat have tested positive for Covid. Minister V Sivankutty, who tested positive for the virus, has been admitted to a private hospital. The CM's office has been partially closed. More than 300 working in the Secretariat Main Building, Annex 1 and 2 have been infected. Several people in the ministerial offices have also tested positive for the virus.
Chief Minister Pinarayi Vijayan, who is undergoing treatment in the United States, will attend the online Covid review meeting on Thursday. The government is mulling introducing region-wise restrictions rather than imposing a complete lockdown.
Covid cases are heavily rising in Thiruvananthapuram. 6911 persons tested positive for the virus on Tuesday. The situation is becoming critical in Kochi and Kozhikode. A large number of policemen have also tested positive for the virus in various districts. Eighty employees of KSRTC in Thiruvananthapuram were infected by the Covid.
As many as 107 people, including 25 doctors, tested positive for the virus in the Thiruvananthapuram Medical College hospital.
Six college students who returned after a college tour have tested positive for the Omicron variant. With this, the college has become an Omicron cluster. Authorities have decided to close down the colleges.
27 clusters were formed in several places, including educational institutions, in Ernakulam. Authorities have directed the public to strictly adhere to regulations in offices and other institutions. District administration has imposed a ban on all public events in Kozhikode.
The Minister of Health, the Minister of Local Self Government, the Secretaries of Departments and the Health Experts will attend the Covid Review Meeting on Thursday.