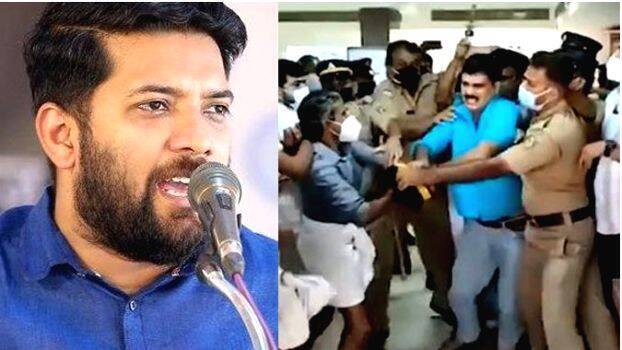 THIRUVANANTHAPURAM: Youth Congress state president Shafi Parambil has lashed out at the DYFI over the attack against Youth Congress state vice president Rijil Makkutty during a protest against the SilverLine project. Earlier on Thursday, a clash had taken place between DYFI and Youth Congress activists when the Youth Congress activists attempted to storm into an event attended by minister MV Govindan Master. Following this, a number of DYFI activists surrounded and attacked Rijil Makkutty.
"The LDF government is planning to move ahead with the K-Rail project by crushing down democratic protests and evading questions on environmental-social-economic impacts. CPM has unleashed violence against a handful of Youth Congress workers who staged a protest against the drama held in the name of an explanatory meeting to garner support for the K-Rail project. The police remained mute spectators while a goonda gang, including the DYFI district secretary, brutally attacked Youth Congress workers. If the government intends to move in this path, then it should realise this train will not run very far,' Shafi wrote on his Facebook page.
'The Youth Congress State Committee strongly protests the violence against Youth Congress leaders, including state vice-president Rijil Makutty and district president Sudeep James, by the police and DYFI activists. We are not staging a public protest as we are concerned about the current situation in the state. The Youth Congress will organize a protest march against the atrocities in compliance with the Covid norms,' Shafi Parambil added.