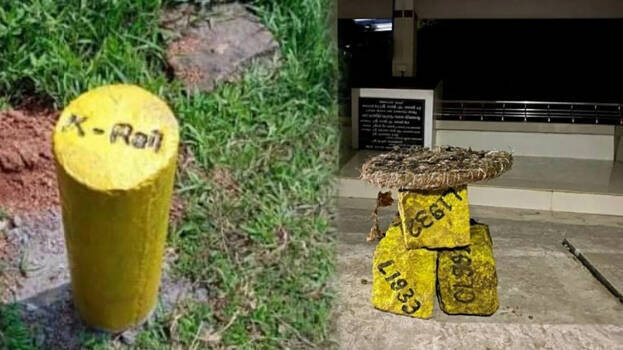 ANGAMALI: A protest was staged after Silverline survey stones were uprooted at Pulinakam in Angamali. Six stones laid in the paddy fields at Thriveni were uprooted at night. It will be re-installed today itself. "This is only the natural response of the people of Kerala and I am in full support of the act'', MLA Roji M John said. ''Is it possible for the police to guard all the survey stones laid across Kerala?'' asked the MLA.
The survey stones were installed by K-Rail officers yesterday. There was huge protest against the instalment, organised by the protest committee against the project. Many protesters courted arrest. The stones were removed today morning and were put on display at nearby junctions.
''The police had threatened and arrested the people of Angamali, yet the stones could not even survive for 24 hours'', said the MLA. He praised the protesters through his Facebook post for giving a strong reply to the arrogance of Pinarayi government, which continues to challenge the people of Kerala. The stones were laid without asking the permission of the land owners. Hence, it is only natural for the people to react, added the MLA.