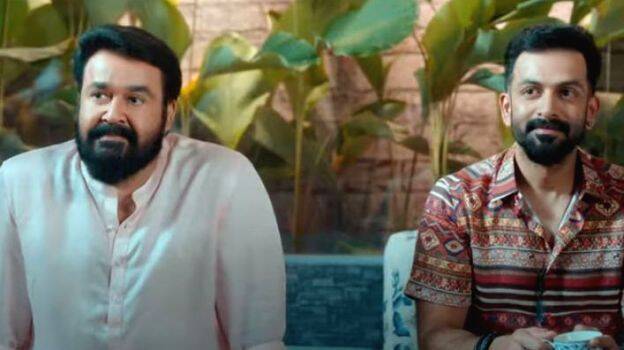 To wait earnestly for a movie for three weeks since trailer launch, see all released songs at least twice a day, see all promo videos multiple times a day and share it with everyone including schoolmates, friends, and with even some spiritless souls, all just out of my excitement, is something that I have not done for a long time now. But the Prithviraj directorial BroDaddy, was worth all this.
Kaattadi family and Mailekkal family are friends through John Kattadi (Mohanlal) and Kurien Maliekkal (Lalu Alex). Married at the age of 23, John has a grown-up son, Eesho John Kattadi (Prithviraj) who is in a relationship with Kurien's daughter Anna (Kalyani Priyadarshan) for the last four years. The story unfolds, solving an amusing eventuality in the family.
Sreejith and Bibin have simmered out a predictable storyline and written a decent script which the master craftsman and brilliant filmmaker in Prithviraj, turned into a movie project for Aashirvad Cinemas. Though he struggles as always, in performing in comedy sequences, Prithviraj has shared almost equal (or more?) screen space with ace actor Mohanlal, apart from doing a splendid job planning, scheduling, and directing the show. The scenes are perfect. The detailing is classy. The visuals look like a painting in many frames reminiscent of ad films. Mohanlal has done a reasonable job after many years in a light-hearted role. I think this is the Mohanlal that I grew up watching, not the ones I saw in Maraykkar or Odiyan. The dad-son combo is rejuvenating to watch.
Meena once again plays Mohanlal's better half. The tall and lovely Kaniha looks cute on-screen as always. Kalyani Priyadarshan is the choco-pie who stole many a heart in this 159-minute entertainer. She seems to be improving with every character and movie. Soubin, Idukki Jaffer and Unni Mukundan plays short roles to perfection. Soubin's character was a satirical take on the over-garniture of a contemporary event management company and therefore was naturally a bit exaggerated. Veteran Actor Jadageesh appeared tired and aloof in the role of Dr. Samuel.
It is good to see Lalu Alex back on screen in a role that suits him like a T. Though he was replaced a lot by the less-exciting actor Renji Panicker off late, Lalu Alex still has a lot in him, to win hearts. Infact, one can doubtlessly say that Lalu Alex and Kalyani Priyadarshan were the top performers in this movie.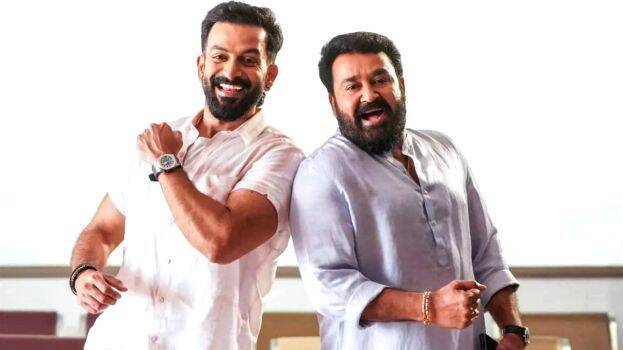 Music by Deepak Dev sounds monotonous and boring. Though one of the songs "parayathe vannen" sounds good, he must note that unless he brings in more freshness in his song-compositions, he is sure to near the fate of Harris Jayaraj in Tamil who had to give way to the less impressive and comparably much less talented Anirudh just because of his repetitive tunes. Re-recording sounded better than the songs.
Cinematography Abhinandan Ramanujam was top class. However, editing by Akhilesh Mohan needed to be crisper to shorten the show by at least 15 minutes. Subtitles by Vivek Ranjit were average.
A very ordinary story made watchable by the single-handed efforts of Prithviraj - that is what BroDaddy is. Altogether, the movie though very predictable with no jolts, is a good one-time watch for lovers of fun-filled family dramas. Watch it for Mohanlal, Prithviraj, and its overall making.