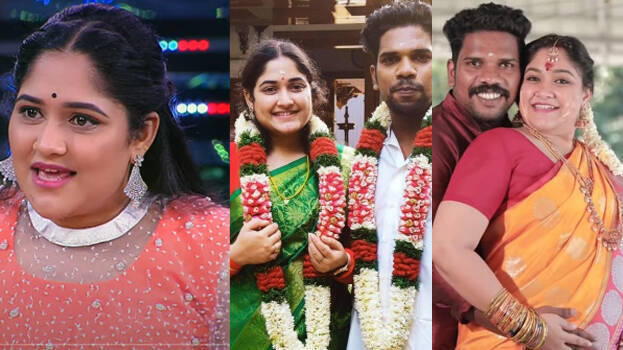 Anusree is a popular TV serial actress. She is also active on social media. The actress recently gave birth to a baby. The video of the child's 'nooluket' went viral on social media. Fans noticed the absence of Anusree 's husband Vishnu at the event.
After this, there was a rumour on social media that the actress have some problems in her married life and is about to get divorced. Anusree has now responded in this regard during a program on a private channel.

'I was brought home for delivery. Vishnu also stayed at my house till delivery. He then went back saying that it is not right for a husband to stay in the house where the delivery took place. Then our phone conversation became less. I was in no mood to call and talk 24 hours after the delivery. I had postpartum symptoms like insomnia and mood swings. When Vishnu would call, I would show the baby and hang the phone, thinking that he wants to see the child', she said.
"When it was time for 'nooluket', Vishnu said that if my mother invites him, he will come. I said my mom won't call. And then he had work. Still we both call and talk."
"I had posted on social media about divorce. It got bad comments. After that Vishnu called and said that it was stupid to do that and could've told him in person if I want to say something. The post was later deleted. I can get close to Vishnu or otherwise, but it is our decision to make, she added.