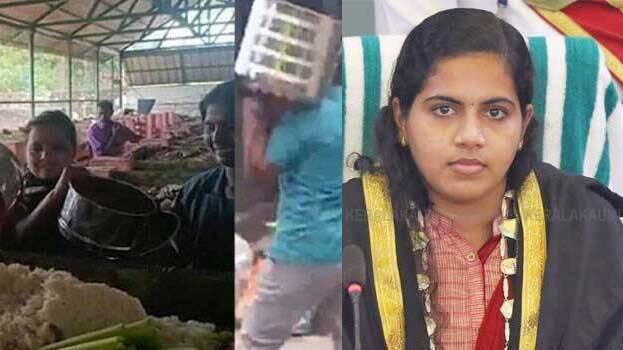 THIRUVANANTHAPURAM: Pressure is mounting on the Mayor to withdraw the action of sacking the cleaning workers for throwing away sadya in the garbage pit during the Onam celebrations. CPM leaders also came forward dismissing Mayor Arya Rajendran's action. CITU district committee meeting will be held today to decide further steps in this regard.
CPM state secretary MV Govindan responded that it is not party policy to sack protesters. CITU leader Ananthalavattam Anandan also said that the action of sacking the workers was not right and demanded it should be withdrawn.
Thiruvananthapuram Corporation is likely to withdraw the action of sacking the workers. The new decision is being taken amid strong protests within the CPM against the Mayor's action. It is reported that the CPM has given an instruction to the mayor in this regard. The action against the workers without even giving a show-cause notice had led to strong protests. Moreover, the left-wing activists stood on the side of the workers. At present, it is indicated that the action will be withdrawn when the Mayor, who is in Kozhikode, returns.
The action was taken against 11 people. Following the incident, the Additional Secretary ordered the dismissal of four temporary employees of Chala circle and the suspension of seven sanitation workers. A group of employees protested on the allegation that they were asked to work when they came to celebrate Onam last Saturday. Then the rice and curry were thrown away along with the garbage.
There was severe criticism after the footage of food being dumped circulated on social media. After that, the Corporation Health Standing Committee chairperson Jamila Sridhar directed the HI of Chala crcle to conduct an immediate investigation and submit a report. The chairperson handed over the report to the Mayor's office and to the Secretary and Additional Secretary. It was decided to take action when the employees were found guilty in the investigation report of the HI and the secretary-level investigation. The suspension order states that throwing food items in the garbage is deplorable and a serious breach of discipline and such acts will create a hindrance in the smooth functioning of the corporation.