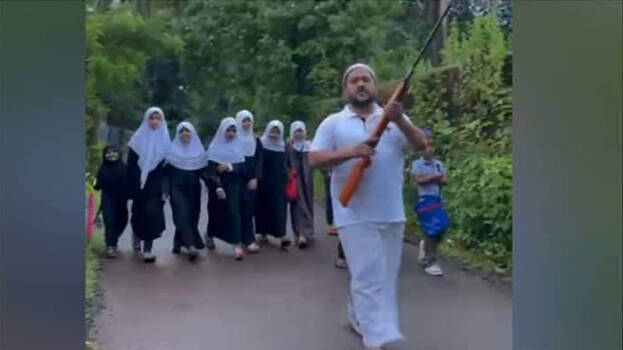 KASARAGOD: The police have registered a case against a man who wielded an air gun to protect the students going to the madrasa from stray dogs. Bekal police have registered a case against this person, Sameer, hailing from Haddad Nagar in Kasaragod's Bekal. A police case has been filed against Sameer for committing a riot inciting act under IPC 153. At the same time, Sameer said that he is dejected that the police had registered a case. Sameer's said that he took out an airgun kept in his showcase, which is worth only Rs 9000, and that he does not know how to shoot properly. He added that a dog won't die if shot with this airgun.
Last Thursday, a video of Sameer wielding an airgun to take the children to the madrasa went viral. A six-year-old boy was bitten by a stray dog in this area and the children were reluctant to go to the madrasa.
The dog that bit the six-year-old boy was beaten by the locals and workers who came to unload the cement load.