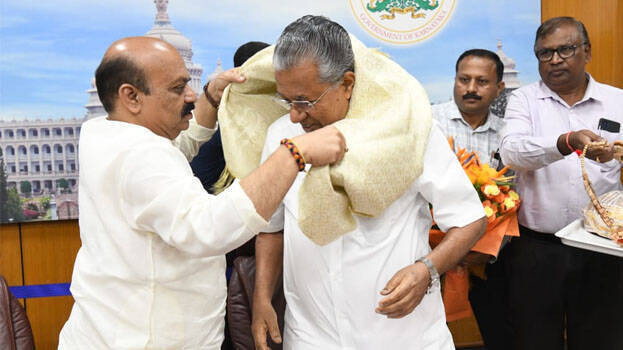 BENGALURU: Chief Minister Pinarayi Vijayan and Karnataka Chief Minister Basavaraj Bommai held a meeting and discussed various development issues. While they agreed upon Malappuram-Mysuru National Highway, Kerala's major development project, the SilverLine, was not discussed. The issue was not discussed because Kerala has not handed over the complete technical details of the project. At the same time, Karnataka has rejected three railway projects, including the Nilambur-Nanjangud railway line, which would greatly benefit Kerala. These were rejected citing environmental issues.
Nilambur-Nanjangud railway line, Kasaragod-Dakshina Kannada and Thalassery-Mysuru projects have been shelved by Karnataka. Karnataka CM Basavaraj Bommai informed Chief Minister Pinarayi Vijayan that these projects are not acceptable. At the same time, Basavaraj Bommai said that the government will examine the Kanhangad-Panathur-Kaniyur railway lane project connecting northern Kerala with southern Karnataka and will seriously consider providing financial assistance.
Kerala and Karnataka will jointly request the National Highways Authority to implement the alignment from Tholpetty to Purakkattiri and Sultan Bathery to Malappuram as part of the Mysuru-Malappuram Economic Corridor project as an alternative system to night travel restrictions on National Highway 766.
The Chief Ministers held a meeting at 'Krishna', the official residence of the Karnataka Chief Minister in Bengaluru at 9.30 am. After the meeting, Kerala Chief Minister returned to Bagepalli in Karnataka to attend the CPM general meeting and mass rally.