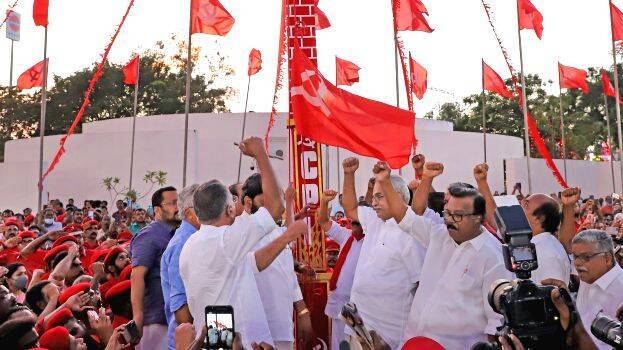 THIRUVANANTHAPURAM: The official faction has gained the upper hand in the districts in the discussion based on the working report at the CPI state conference. The response of delegates from all districts except Idukki against the public statements made by KE Ismail and C Divakaran was a reflection of the organized movement of the official side.
When the delegate of Ernakulam district also lashed out against this, other delegates of the district stood up and argued, which led to dramatic scenes. A group of delegates said that the concerned delegate's speech was against the stand of the group discussion. The presidium intervened and repulsed both parties. Isolated criticism was also leveled against the state secretary, who had earlier publicly rejected the stand of the general secretary.
As the conference ends today, one faction is hinting that there will be a competition. However, the other faction rejects this. The delegation meeting will resume today at 11 am. Four people are yet to speak in the discussion. The state council election will be held after the state secretary's reply.
Without naming Ismail and Divakaran, many criticized that the actions of the senior leaders were dragging the party, which is followed by thousands, to the streets for personal gain. Most delegates also defended the age limit system. The question raised was what is the justification for saying no in the state after implementing it at the stages up to the district conferences. The Kottayam district delegate also stood with the official side.
There was an opinion that the stand of the national leadership which stated that the present reservation should be strengthened, not the economic reservation, was correct. Raja's response to the discussion was that the credibility of the Congress is leaking. 'It is the Congress that stands in the way of national change. The party is under the process of organizational improvement at the grassroots level, including in North India,', clarified Raja.