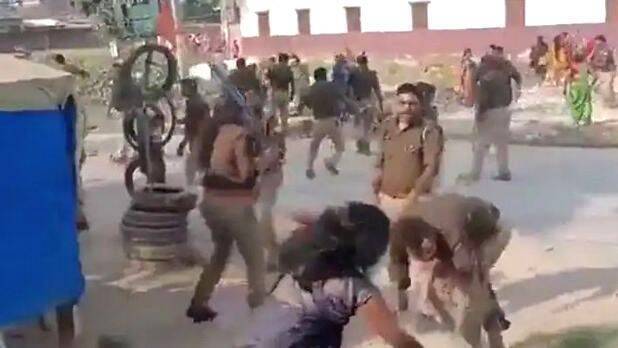 AMBEDKAR NAGAR: It has been alleged that Uttar Pradesh police have brutally thrashed people, including women, during a protest held in connection with an Ambedkar statue. Five women and four policemen were reportedly injured in the clash. Widespread protests erupted against the police after the video footage of the incident came out. Following this, the police came up with an explanation stating that they had to resort to the lathi-charge as protesters attacked and threw stones at the police who came to enforce the law.
On Sunday, local residents of Wazidpur village in Ambedkar Nagar district organized a protest march against the Corporation for constructing a wall around the Ambedkar statue in the region. Following this, the authorities informed the police as the construction of the wall got interrupted. The lathi charge took place as the police, which reached the spot, were unable to control the protesters. It is alleged that the police brutally thrashed the protesters, including women, as the dispute escalated. Two police vehicles and the Tehsildar's vehicle were damaged in the incident.
The corporation had started the construction of the wall after unidentified persons defaced the statue of Ambedkar by pouring black paint on it. The land where the statue exists is a disputed area. The conflict occurred while the police were conducting an investigation to find those who poured the paint on the statue. The police have registered a case against those who participated in the protest march for obstructing the police and assaulting them.