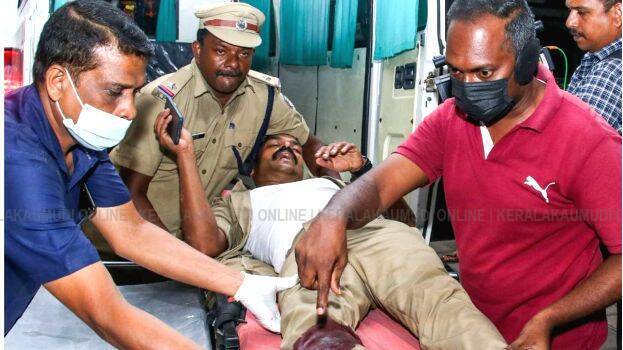 THIRUVANANTHAPURAM: Following an intelligence report that claimed the Popular Front was responsible for the attack on the Vizhinjam police station, the National Investigation Agency (NIA), which had been conducting covert surveillance based on claims that the anti-Vizhinjam port strike was receiving foreign aid, arrived on the scene on Wednesday.
A team headed by NIA Circle Inspector Srikanth reached the Vizhinjam police station on Wednesday. The NIA team called four people, including Kovalam native Ummer, who were members of the Popular Front, to the station and questioned them. The team also collected a list of former PFI workers in the area. The NIA team will closely monitor the movements of these persons. The NIA officers patrolled for more than three hours in Vizhinjam and the surrounding area.
They also asked the policemen for information about the day of the attack on the station and the current situation. The state intelligence report that PFI members had plotted a large-scale riot after infiltrating the strike committee is being taken seriously by the NIA.
The NIA team reached Vizhinjam after DIG R Nishanthini, the head of the special police team, went to the port area after visiting the police station.
A section of protesters wants to stop the strike, archbishop is helpless
Meanwhile, Chief Minister Pinarayi Vijayan has received an intelligence report stating that there is a rift within the strike committee and Archbishop Thomas J. Netto, who wants to put an end to the strike, is helpless. A section that wants to end the strike held a meeting at Kottapuram UP School on Tuesday night under the leadership of Fr. Melkon, vicar of Vizhinjam. Concerns about outsiders infiltrating the strike were brought up at the meeting. A suggestion was made to propagate the message that outsiders were responsible for the police station attack. Yesterday morning, a group, under the leadership of Father Melkon and church secretary Pushparajan, met the archbishop and asked him to end the strike. The bishop replied by saying that a group of priests are not agreeing to stop the strike.

163 case, attackers will be soon arrested
The Chief Minister has directed the police to proceed with the cases. The police have also decided not to refrain from arresting the culprits in the Vizhinjam police station attack case. DIG R Nisahnthini said that 163 cases have been registered and that arrests will be made soon after collecting evidence. More cases will be registered on the complaints of injured policemen and others.