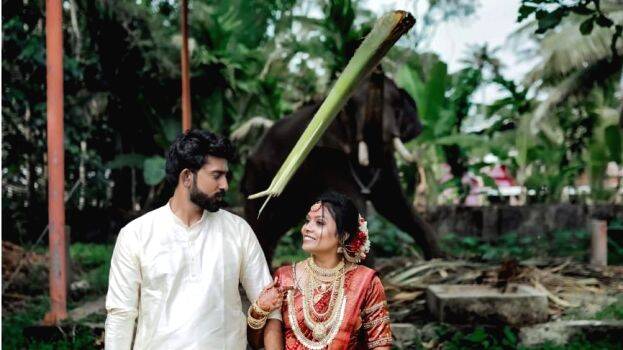 KOLLAM: It is dangerous to take risky selfies and wedding photo shoots. On November 10, an elephant became agitated when the couple moved away after a photoshoot in Guruvayoor. The elephant tried to lift the mahout with the leg but he escaped narrowly.
In another incident at Chathanoor, Kollam, a couple fell into a rocky pond while taking a selfie just a day before the wedding. The bride, Sandra slipped and fell into the pond. The bridegroom, Vinu, jumped into the pond to save her. Luckily, they both survived.
Yesterday a video surfaced showing a naughty elephant throwing a coconut leaf at a couple who came to take a photoshoot. The incident happened at Panmana Subramaniya Swami Temple on December 5. The couple Jaishankar and Greeshma was leaving after the photoshoot when Saravanan, the elephant, threw a coconut leaf at the couple. The coconut leaf passed by the bridegroom's shoulders.
Sharavanan is familiar with Greeshma since childhood. She used to give him food whenever the elephant visited their home. Also, she used to take food when going to see Sharavanan. However, this time Greeshma did not take any food with her. This might have angered Sharavanan.
All those who are trying to take risky photoshoots must realize that danger is lurking nearby.