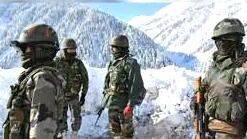 NEW DELHI: China was planning to cross the Line of Actual Control (LAC) and set up an observation post in Tawang, just as it did in Galwan. However, India's gallant soldiers thwarted this attempt by chasing the Chinese soldiers off. This was reported by the news agency IANS quoting a senior army officer.
It is extremely cold in Tawang. There is heavy snow in the region. Indian posts are often stocked with supplies before winter arrives. China's plan was to monitor the movements of the Indian forces by secretly setting up the post.
In Galwan, Indian soldiers unexpectedly spotted Chinese encroachment during patrolling. This eventually resulted in the clash between the two troops. The military officer said that India had made necessary preparations at the border this time. That is the reason why Indian soldiers managed to chase around 300 Chinese soldiers.
Meanwhile, United Nations Secretary-General Antonio Guterres urged both countries to take immediate action to de-escalate border tensions.
White House Press Secretary Karine Jean-Pierre said she was happy that the tension in Tawang had suddenly eased. "America is watching everything. Both countries should be ready to discuss the border dispute through diplomatic and military means," Pierre said.
Opposition parties stage walkout in Parliament
As many as 17 opposition parties on Wednesday staged a walkout from the Rajya Sabha accusing the government of not holding a discussion over the December 9 clashes along the Line of Actual Control between the Indian and Chinese forces at the Tawang sector of Arunachal Pradesh. Congress, Rashtriya Janata Dal, Aam Aadmi Party, MDMK, Communist Party of India (Marxist), CPI, Janata Dal-United, DMK, Trinamool Congress, and Telugu Desam Party were among the 17 parties that walked out from the House during 'Zero Hour'.
Leader of Opposition Mallikarjun Kharge among other Opposition leaders raised the issue to hold a detailed discussion on the clash when the House assembled for the day and Deputy Chairman Harivansh allowed 'Zero Hour' so that parliamentarians could raise their issues. As the Opposition's demand to hold the discussion on the India-China border clash was not allowed by the Chair, the 17 parties staged the walkout.