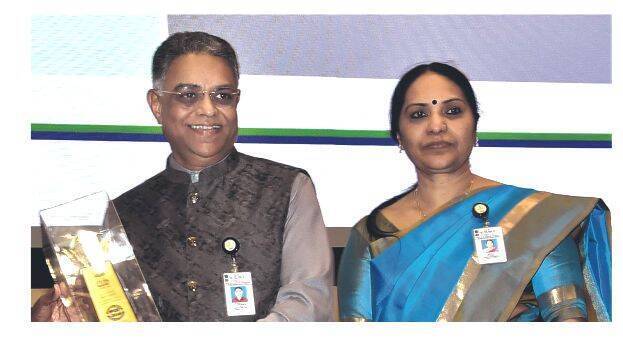 THIRUVANANTHAPURAM: The scientists at VSSC, Thiruvananthapuram have developed the rocket's super battery capacitor technology to increase the capacity of the batteries of electric vehicles and also to reduce their cost and size.
The technology was developed by the team led by Dr. S. Sujatha, ISRO former Chairman Dr G Madhavan Nair's niece and Energy system science head and Dr. SA Ilankovan, Deputy Director, Department of Polymer Chemistry at VSSC.
Through this innovation, the battery cost of e-vehicles can be reduced from Rs 2.5 lakh to just Rs 27,000. The duo received the National Energy Innovation Award for this patented achievement from President Draupadi Murmu in Delhi yesterday.
A battery is an energy storage device. Capacitors are needed to get energy from it at the same power for a longer period of time. A super battery capacitor combines both of these in a single device and has ten times the capacity of a normal battery. The size and price will decrease drastically.
"This is a successful technique which was used first in sounding rockets and later in PSLVs. The rocket was able to accommodate a heavier payload and also helped to increase the rocket's capacity. This was modified to develop a super battery capacitor suitable for electric vehicles. It also has other commercial uses.", said VSSC director Dr S Unnikrishnan.
Dr. Sujatha
Dr. G. Sujatha is the daughter of Madhavan Nair's sister, Sarojini Amma and KG Chandrasekaran Nair, a noted writer who translated the Tamil poems Thirukkural and Thirumanthiram into Malayalam. After completing her education at Pune University, she joined ISRO in 1986 after getting PhD from the Indian Institute of Science, Bangalore. Her husband is VV Gopinath, a retired bank officer. Her daughter Meera is a university professor in America and son Gokul a researcher in UK.