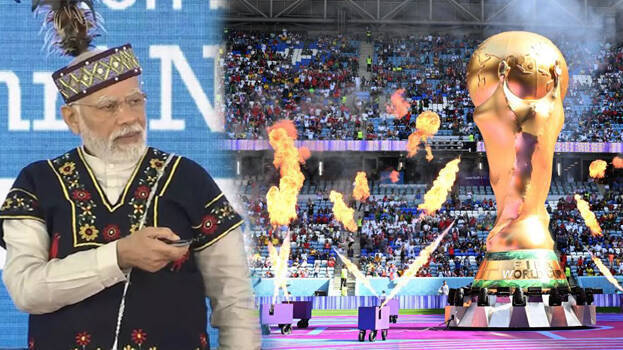 NEW DELHI: Prime Minister Narendra Modi said that our dreams of the World Cup is not far away. Just like Qatar World Cup, we will also host the biggest football event. There the tricolor flag will be hoisted. The PM made this statement while inaugurating many developmental projects in Meghalaya.
Narendra Modi said that the central government is moving ahead with plans to develop the sporting sector in the region. Moreover, the country's first Sports University will also be opened. He added that in the coming years, India will also make its presence felt in the World Cup.
The PM said that now Indians are cheering for other countries. That situation will change soon and we will host global sports events. He said that he trusts the youths of the country to make that a reality.
Modi said that it is a coincidence that a rally is being conducted at a ground in Shillong amongst football fans. In his speech he compared the developmental activities with football. He said that if there is football craze in Qatar, then it is development craze here.
He also said that just like red card is shown to football players, his government has shown red card to those who stood against development in the Northeast part of India for the past eight years.