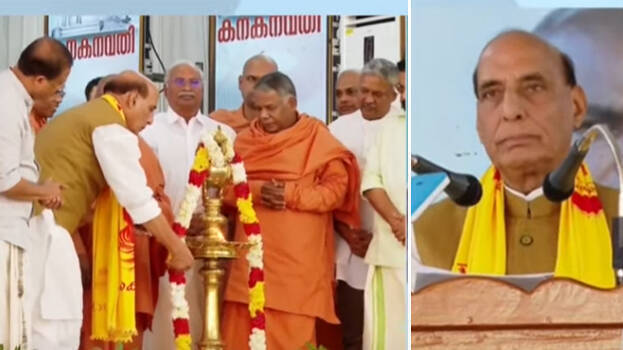 THIRUVANANTHAPURAM: Defence Minister Rajnath Singh inaugurated the 90th Sivagiri Pilgrimage in Varkala.
The significance of this year's pilgrimage is the confluence of the 90th pilgrimage in search of the depths of knowledge, golden jubilee of Sivagiri Brahma Vidyalaya and the centenary of the poet Rabindranath Tagore's visit to Sivagiri.
Minister of State for External Affairs V Muraleedharam is the chief guest. Swami Sachidananda is presiding over the function. Sree Narayana Dharma Sanghom Trust Board member Swami Sookshmananda and general secretary Subhangananda will deliver the benediction speech.
Former Ministers Kadakampally Surendran and K Babu, Pravasi Samman Awardee and Chairman of QEL and OPCC Holdings K G Baburaj, Sri Gokulam Group Chairman Gokulam Gopalan, Kerala Kaumudi Chief Editor Deepu Ravi, Yoganadam News Chairman South Indian R Vinod and others will deliver a speech. Pilgrimage committee secretary Swami Vishalananda will deliver the welcome address and Sree Narayana Dharma Sangham Trust Treasurer Swami Saradananda will deliver the vote of thanks.
Minister V Sivankutty will inaugurate the education, science and technology meet. Minister R Bindu will preside. IMG Director K Jayakumar, VSSC Director Dr Unnikrishnan Nair, Public Education Principal Secretary APM Muhammad Haneesh, Agriculture Department Secretary Dr B Ashok, Vice-Chancellors Dr Sabu Thomas, Dr K N Madhusudhanan, Keltron CMD N Narayanamurthy, etc. will deliver the lecture.
Padayatras from various districts reached Sivagiri yesterday evening.