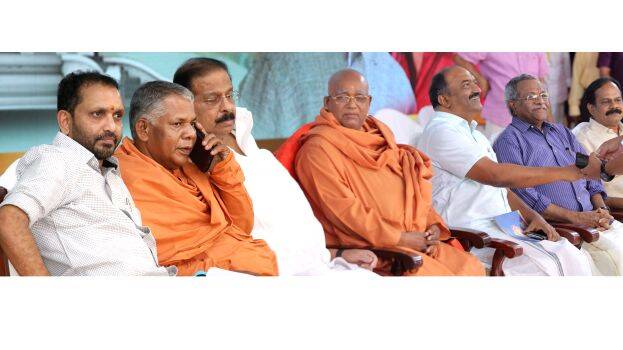 SIVAGIRI: Minister KN Balagopal said that the division in the name of communalism is not happening in Kerala due to Guru's ideas. He was inaugurating a global meet of Sree Narayana institutions during Sivagiri pilgrimage.
"Sree Narayana Guru is the greatest son Kerala has given to the world. Guru's vision is very relevant at a time when segments of racism, communalism and war are re-emerging strongly all over the world. Kerala is a society that upholds the motto of multi-religious essence and unity. 'Daivadasakam' composed by Guru is not a prayer song for a particular community.", he said. The minister said that one caste, one religion and one God is a message to the whole world.
K Sudhakaran
KPCC President K Sudhakaran said that though there are many pilgrimages in the country, Sivagiri pilgrimage is the only one without the color of caste and religion. Guru's struggle was to free the people from the clutches of the boundaries of caste and religion. Sudhakaran also said that Guru was able to transform the land from darkness to light.
K Surendran
BJP state president K Surendran said that if Sree Narayana Guru had not been born, Kerala would not have been like this. "It was Guru who freed India's 'Sanatana Dharma' from the clutches of conservatives and caste fanatics and said that this is the correct vision of India. For the first time in the history of the country, the Modi government gave constitutional status to the OBC Commission. 27 percent OBC reservation was granted for students in medical colleges.", he said. Surendran also said that 69 percent of the MPs who support the Modi government are from the reservation category.
State Film Development Corporation Chairman Shaji N. Karun, former Director of Backward Communities Department V.R. Joshi, ITDC Director K. Padmakumar, SNGC President Dr. KK Sasidharan, Bahrain Gurudeva Social Society Chairman K. Chandra Bose, Bahrain Sree Narayana Cultural Society Chairman Suneesh Susheelan, SNDP yogam Women's wing President Krishna Kumari, Sahodara Samajam Secretary P.P. Rajan, and TV Rajendran, former registrar of the Gurudeva Campaign Sabha was present. Swami Asangananda delivered the welcome speech and Swami Devathmananda Saraswati delivered the vote of thanks.