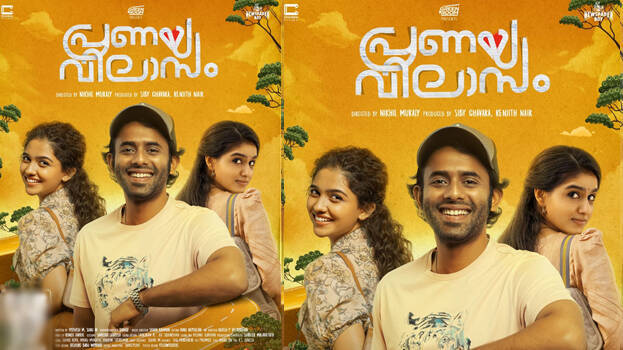 The release date of 'Pranaya Vilasam' with lead roles handled by Arjun Ashokan, Anaswara Rajan, and Mamita Baiju after the super hit "Super Sharanya", has been announced. The film will hit theaters on February 17. Directed by Nikhil Murali, the film also stars Mia, Hakeem Shah, and Manoj KU. The film is produced by Sibi Chavara and Ranjith Nair and the cinematography is done by Shinos.
Presented by Green Room, the screenplay and dialogues of this film are jointly done by Jyotish M and Sunu AV. Music composed by Shaan Rahman with lyrics by Suhail Koya, Manu Manjith, and Vinayak Sasikumar.
Editing- Binu Napoleon, Art Direction- Rajesh P Velayudhan, Makeup- Ronex Xavier, Costume Design- Sameera Saneesh, Sound Design- Sankaran AS, KC Siddharthan, Sound Mix- Vishnu Sujathan, Production Controller- Shabir Malavattham, Chief Associate- Suhail M, Colorist-Liju Prabhakar, Stills-Anoop Chacko, Nidad KN, Title Design-Kishor Wayanad, Poster Designer-Yellow Tooth, PR-AS Dinesh.