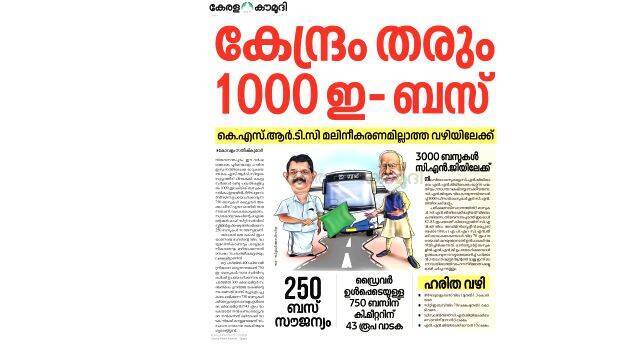 THIRUVANANTHAPURAM: The possibility of getting 1000 electric buses through the central scheme came before KSRTC when the state government assistance and KIIFB loan for purchasing new electric and diesel buses were endlessly extended.
The process of purchasing 600 diesel buses and 179 electric buses was completed in November, expecting a loan of 359 crore rupees from KIIFB for SWIFT. The process of giving the tender for diesel buses to Ashok Leyland Company was almost complete. But as the loan amount was not available, it was cancelled and the tender was called again.
The tender process was completed to purchase 131 diesel buses by 50 crores granted from the government's plan fund, but the funds were not available. 17 crores have been requested from the government to give an advance but no favorable response has been received. The law states that long-distance service buses should be used only for five years. However, due to shortage of buses, the validity of 1800 buses were extended. Of these, 159 buses have been in service for ten years. These can be withdrawn only when new buses arrive.
Buses to 3 districts
Out of the 250 free e-buses included in the Augmentation of City Service Scheme of the Central Urban Affairs Department, 100 each will be used for service in Thiruvananthapuram and Kochi cities. Remaining for Kozhikode city service. Through another scheme, 750 e-buses are provided on hire basis by the Central Power Department for long distance service.