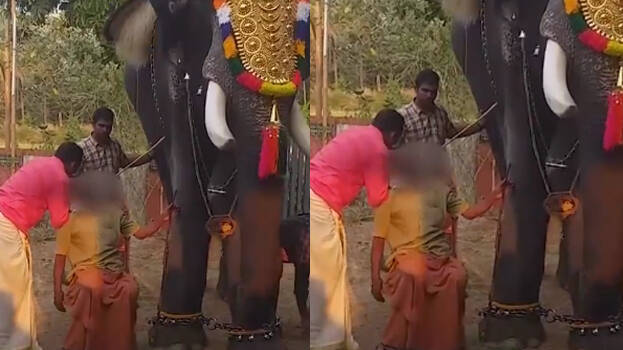 THRISSUR: The mahout, who came with the elephant for the procession, was not able to stand on his feet. Seeing the drunk mahout, the organisers made him sit on a chair near the elephant. The organizers and the people who came for the festival, heaved a sigh of relief when the ezhunnallippu was finally completed. The organisers were going through a tense situation throughout the ezhunnallippu. Even though the mahout was out of control, the elephant remained calm without losing his control.

The mahout's dance and the subsequent events unfolded during the Sivaratri celebrations at a Siva temple near Perumpilavu in Thrissur. The mahout, who was fine till noon, returned drunk after lunch and was not able to stand properly. He consumed liquor while going for lunch. Even though he was not able to stand properly, he reached near the elephant. As soon as he came, he caught the elephant's trunk and started dancing. He was in a state of falling down. The organizers intervened when things went awry. Three-four people held him and he was later made to sit near the elephant for some time.

The organizers were relieved when the ezhunnallippu was completed without any problem. The elephant was calm throughout. After the ezhunnallippu, the elephant went back with another mahout.