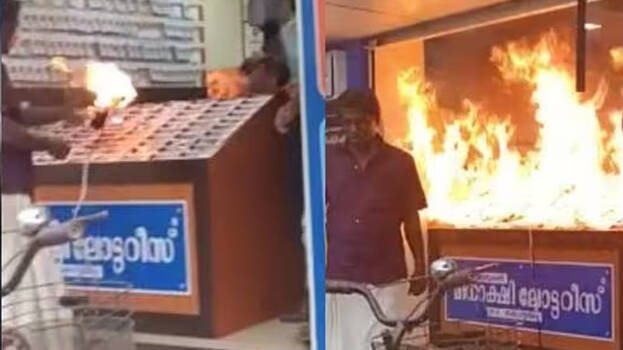 TRIPUNITHURA: A youth set fire to a lottery agency shop after threatening to set it ablaze on a Facebook live. The incident happened at Meenakshi Lotteries on Tripunithura Statue East Road last evening. The police have arrested the assailant. Many lotteries were burnt. A loss of Rs 150,000 has been estimated. The police said personal enmity is behind the crime. However, the accused gave some other strange reason for it.
Rajesh, who sells lottery in a cycle, is behind the act. The incident occurred in a place where there are many commercial establishments close to each other. A major accident was averted after the staff of the shop doused the fire with water.

Rajesh had the other day on Facebook live said that he will set ablaze Meenakshi lottery agencies. He set the shop on fire as stated. He had asked on live whether we need such capitalists. 'We need real communism, that is, the communism when EMS was ruling. We need comrades who go to the people for the people.' He had also said in live that he would not accept a monopoly capitalism as long as he lived.