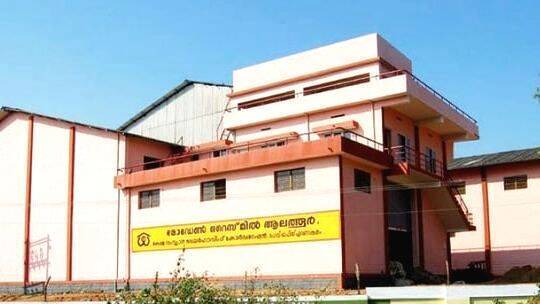 PALAKKAD: Modern Rice Mill in Alathur, which was set up fifteen years ago at a cost of Rs 3 crores in the government sector, is on the brink of destruction as it is closed down due to the political games of private mill owners, and laxity of officials.
The mill was set up in half an acre on the Alathur National Highway under the responsibility of Ware Housing Corporation. Inaugurated by the then Chief Minister VS Achuthanandan on January 1, 2008, the mill was shut down in its fourth month. In 2018, VS Sunil Kumar, the Agriculture Minister in the first Pinarayi government, renovated the mill at a cost of Rs 25 lakh, but it was closed again after a week.
Palakkad's rice production is in Alathur and Chittoor taluks. The aim was to collect the rice paddies of the farmers in these places, turn it into rice, give it to Supplyco and distribute it to the common people through ration shops. When it was announced that 90 percent of the rice here would go to the government mill, the business of private mill owners and rice companies faced closure. It is alleged that the mill owners and rice companies, who saw that their paddy procurement would be hampered, nip the government's first modern rice mill in the bud with money and political influence.
At the same time, the agriculture department is closing down and destroying the mill that is supposed to support the farmers on the strange excuse of not getting rice from Palakkad, which is rich in paddy.
After the inauguration, it was not possible to collect paddy through the societies and make it into rice products and bring it to the market. The management's hiring of local farm labourers on daily wages instead of technically skilled workers also backfired.
The mill is run once a week to prevent machinery from breaking down, but there is no production. This costs a monthly electricity charge of Rs 10,000.
Largest dryer mill in Asia
40 tons of paddy can be parboiled, dried and made into rice in three shifts a day.
1200 tons per month.
Japan - Chinese technology
Stones, chaff and straw are removed before boiling.
Rice can be cooked and dried in the steam of the boiler.
Largest dryer in Asia.