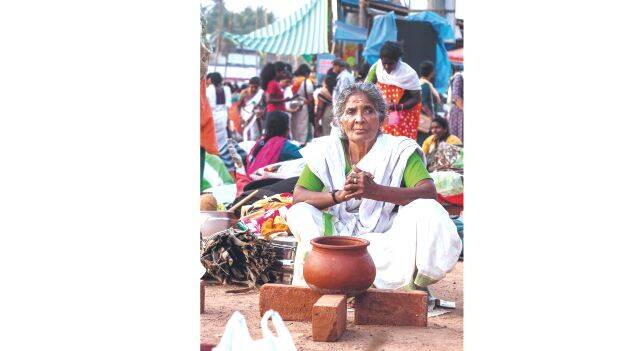 THIRUVANANTHAPURAM: Millions of women devotees are awaiting on the streets and roads of capital city with prepped hearths to offer Attugal Pongala today. That auspicious moment will take place at 10.30 am on Wednesday.
The festivities will begin after the chief priest lit the 'pandara aduppu', the main hearth at the Attukal temple. The favourite dishes of the goddess like Vellapongal, kadumpayasam, therali, mandayappam will be prepared. The locals and voluntary organizations will compete to provide drinking water and food to lakhs of devotees. The police, fire force and health department are also ready for the festival.
The devotees who offer pongala would observe fasting from the day of 'kappuketti' ritual. The women devotees from other districts have reached the capital city by Monday evening and have secured place for their hearths. Also, devotees have reached from other states Tamil Nadu, Karnataka, Andhra Pradesh and Telangana. Foreigners are also being part of the pongala.
Pongala begins at 10.30 am
Nivedyam at 2.30 pm
*Aduppuvettu will be at 10.30 am after Pantheerai pooja and deeeparadhana.
*Thantri Thekedathu Parameswaran Vasudevan Bhattathiri will pass the fire from the sanctum sanctorum.
*Head priest Keshavan Namboothiri will light the hearth in Valiyathidapally.
*Junior priest will pass the fire to 'Pandara aduppu'.
*The devotees are supposed to light the hearth only after hearing the chendamelam and mike announcement.
*Nivedyam at 230 pm. 300 priests to sprinkle theerdham (sacred water).
*Chooralkuthu of Kothiyottam at 7.45 pm, outside procession at 10.15 pm.
Can contact on:
Police control room in the temple - 0471 72778943
Police
9497930055
9497957002
9497990005
Health
Disha 104, 1056, 0471 2552056
Fire force
101
Water Authority
8547697340
Corporation
9188909429
9188909427
Corporation Water Supply
0471 2473832
Corporation Ambulance
6282521677
7902535601
8547969612