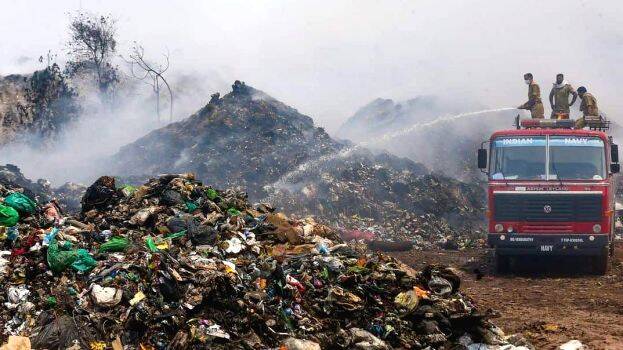 KOCHI: This is the second time that National Green Tribunal has fined the Kochi corporation for unscientific practices at the Brahmapuram waste treatment plant. Earlier, the High Court had lifted the stay which had been granted in the corporation's petition against the imposition of a fine of Rs 1 crore.
There are cases in the tribunal against the Brahmapuram plant since 2013. Jith Kumar, a local resident, and others approached the tribunal to stop the unscientific operation of the plant. In these petitions, the tribunal had ordered that prosecution action should be taken against the corporation officials for violating the provisions of the Pollution Control Board. There is also a plea filed by the corporation against this 2016 order in the High Court.
1 crore fine
On October 22, 2018, the tribunal found that rules and regulations were not being followed in Brahmapuram's waste management and pointed out that the municipal corporation is fully responsible for this and imposed a fine of Rs 1 crore.
Half of the penalty should be deposited with the State Pollution Control Board and the rest with the Central Pollution Control Board. Apart from this, the corporation was also ordered to deposit three crore rupees as performance guarantee with the State Pollution Control Board within 15 days. There was direction to build a new solid waste treatment plant in Brahmapuram within six months and to follow the schedule. The corporation warned that if the schedule is not followed, a fine of two lakh rupees will have to be paid every day until the project is completed. The corporation had also approached the High Court against this.
Case considered by High Court
The petitions filed by the corporation challenging the imposition of a fine of Rs 1 crore and the order seeking action against the officials are now before a division bench comprising Justices SV Bhatti and Basant Balaji. These will be considered on March 21. The corporation is also planning to approach the High Court against the new order imposing a fine of Rs 100 crore.