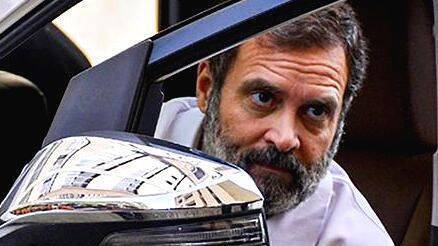 SURAT: Congress leader Rahul Gandhi was found guilty and sentenced to two years in a defamation case filed in 2019 over his remarks about Prime Minister Narendra Modi's surname by a court in Gujarat's Surat. However, he was granted bail and his sentence was suspended for 30 days to let him appeal the decision.
Rahul's parliamentary membership is also likely to be at risk after receiving a maximum sentence of two years in the defamation case. The stand taken by the higher court in this regard will be crucial for him. Meanwhile, legal sources say that the disqualification has already come into effect as the Magistrate's Court has not frozen the verdict finding Rahul guilty. Congress spokesperson and lawyer Abhishek Singhvi also said in the press conference that Rahul is likely to be disqualified. However, the Congress is pinning its hope on the fact that Rahul has an opportunity to file an appeal against the sentence.

The case was filed against Rahul by BJP MLA and former Gujarat minister Purnesh Modi for saying 'how come all thieves have the common surname Modi?' Rahul made the remarks while addressing a rally at Kolar in Karnataka ahead of the 2019 Lok Sabha elections, targeting Modi over his last name which he shares with fugitive businessmen Nirav Modi and Lalit Modi.
The court of Chief Judicial Magistrate H H Varma had last week concluded hearing final arguments from both sides and said it was ready to pronounce its judgment in the four-year-old defamation case, Rahul's lawyer Kirit Panwala had said. Gandhi had last appeared before the Surat court in the case, in October 2021 to record his statement.