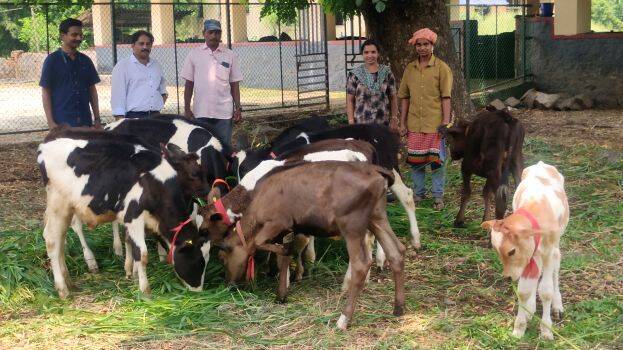 THRISSUR: New way of artificial insemination of cows so that the majority of calvings are cows. Thirty-nine out of 44 cows inseminated over a year at the Veterinary University's Thiruvazhamkunnu Research Center produced cows.
They were born through American technology from the sperm provided by their agency. Experiments with this sperm by the Kerala Livestock Development Board (KLD Board) in their dairies were effective. The sperm they supplied was used in Thiruvazhamkunnu.
The scheme is being implemented nationwide under the Accelerated Breed Improvement Project (ABIP Project) of the Central Government. KLD Board will initially make sperm available at selected centers in Kerala. In this way, it will be possible to increase milk production and income. It will also pave the way to reduce dependence on Tamil Nadu for milk.
Sex-sorted semen
This insemination is known as sex-sorted artificial semen injection. The sperm is supplied by the US-based Sexing Technology Company.
Sperm can have both X and Y chromosomes. When the sperm with the X chromosome joins with the egg, it becomes a calf and when it joins with the Y, it becomes a bull. Most sex-sorted sperm will be X. The semen used for Thiruvazhamkunnu was from a bull of the Halak category. The experiment was conducted on Holstein Friesian (HF), a foreign breed with high milk yield.
Farmer has to pay Rs.500
500 per cow for two injections.
Original cost is 1,350 and remaining is subsidy.
Money will be refunded if it does not give successful results.
Farmers must register for vaccination.
Injection centers 3,000.
300-375 in the first phase.
The project conducted by KLD Board on pilot basis is a success. It can be propagated to produce good quality cows.
Dr. R Rajeev
MD, KLD Board.