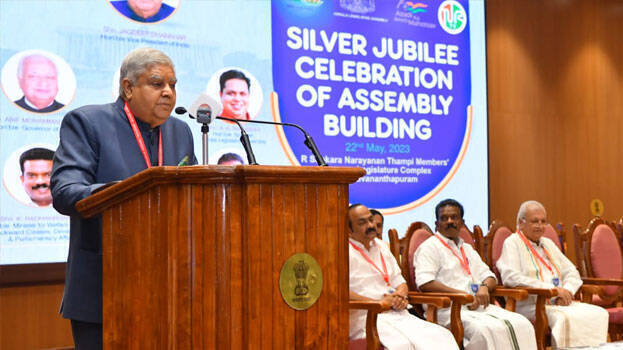 THIRUVANANTHAPURAM: Vice President Jagdeep Dhankhar praised the people of Kerala. The Malayalees are educated and hardworking, he said while inaugurating the Legislative Assembly Silver Jubilee celebrations.
The vice president said this while remembering his Malayali teacher who taught him in Sainik school. He added that the Kerala Assembly building is also a symbol of the high democratic thinking of the Malayalees. He also said that he is impressed with Mammootty and Mohanlal. He praised Kerala by mentioning the names of prominent Malayalees. The vice president while speaking said the dismissal of the first government in Kerala was a constitutional blunder.
He remembered the social reformers of Kerala and congratulated Malayalees who gained achievements in various fields. The vice president paid homage to Chattambi Swamikal, Sri Narayana Guru, Chavarayachchan, Vakkam Abdul Khader Maulavi, Chithira Thirunal Balaramavarma, K R Narayanan and APJ Abdul Kalam.
He said that during his visit to the Gulf countries, he realized how much positive vibe M A Yusuff Ali was creating. He praised Yesudas, P T Usha, Dr Varghese Kurian, E Sreedharan, G Madhavan Nair, M Fathima Beavi, Manuel Fedrick, Anju Bobby George and K S Chitra by mentioning their names.