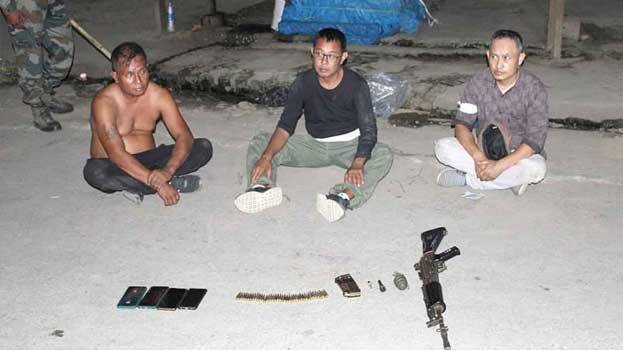 IMPHAL: Weapons used by tribals to riot and attack soldiers in Manipur were of Chinese origin. 25 people were caught with such weapons from different parts of the state.
The Army is taking the delivery of sophisticated firearms to the hands of tribal groups very seriously. Those arrested confessed to planning to riot and attack the army. Weapons seized from insurgents are evidence of China's complicity.
The attack plan came to light when a three-member group was arrested at an army post near the Imphal city center convention at around 7.30 pm on Sunday with Chinese weapons. They came in an Alto car and traveled like normal people to avoid suspicion. When interrogated, it was revealed that more people were in the gang and they were camping in different parts of the state. Others were caught in the ensuing extensive search.
Chief Minister N Biren Singh said that the Kuki sect is using M-16, AK-47 guns and sniper guns to attack the common people. The riots broke out on May 4 against the decision to include the Meitei community in the Scheduled Tribes. On the opposite side is the Kuki-Naga sect.
Weapons seized
Chinese-made hand grenade, detonator, Insas rifle, sixty rounds of 5.56mm ammunition
12 double-barrel rifles, three single-barrel rifles, and various automatic weapons
Indigenously made double-barrel rifle
Amit Shah in Manipur
Union Home Minister Amit Shah has arrived in Manipur for a four-day visit amid heightened tensions. Army Chief General Manoj Pandey had reached Manipur on Saturday and assessed the law and order situation. 5 people including a policeman were killed in the violence on Sunday. Earlier, 40 people were killed in the clash between the commando wing of the Manipur Police and the Kuki tribe.
Complex challenges: Jaya Shankar
External Affairs Minister S Jaishankar said that the country has been facing complex challenges from China for three years. India is ready to face anything. Jaishankar said at a program at Anant University in Ahmedabad that India is suggesting a way that is acceptable to both countries to establish peace, but unilateral actions are coming from China's side.