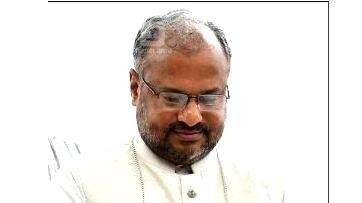 KOCHI: It is clear that the Vatican asked for the resignation of Bishop Franco Mulaykal, who had maintained his statement that he was not at fault, to save the Jalandhar Diocese from a crisis. Reaction to the removal of the bishop has been mixed in the Catholic Church.
The nun complained that Bishop Franco sexually abused her several times between 2014 and 2016. The nun had complained to Syro-Malabar Church head Major Archbishop Cardinal George Alencheri as well.
Although the trial court's acquittal was heralded as a victory for Franco by his supporters, there was fierce opposition in the Jalandhar diocese. The church leadership had been informed by people including the pastors that the diocese was also a victim of the complaint against the bishop. Apostolic Administrator Agnelo Gracias's response that resignation will solve the crisis makes this argument clear.
If a bishop is removed, the practice is to remove the vicar general, episcopal vicars, and administrative officials of the diocese he assigned as well. Although Franco was removed, the entire staff, including the Vicar General, was retained. Church sources said that the removal underscored the church's conclusion that Franco was the sole cause of the archdiocese's crisis.
SOS will not back down
While Franco's resignation was accepted by a majority of church members, supporters claimed that he had resigned himself and would prove his innocence. Meanwhile, opponents say that the resignation was a move against Franco. Officials of 'Save Our Sisters' said that they will proceed with the appeal in the High Court.
Franco to rest?
Franco was given the title of retired bishop by the Vatican. His future will also be decided by the Vatican. Indications are that it is possible to prescribe a leisurely life without assigning duties.