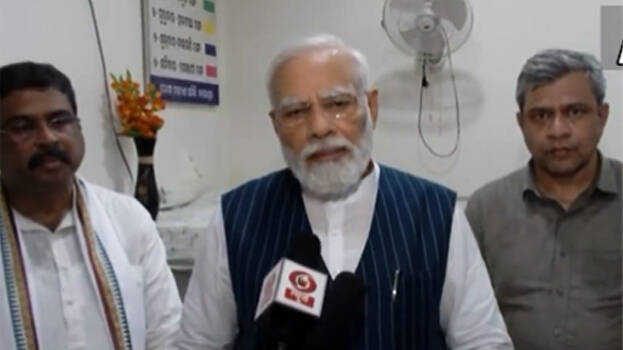 BHUBANESWAR: Prime Minister Narendra Modi said that strict action will be taken against the culprits in the Odisha train accident. He was speaking after visiting the accident site and the injured. The Prime Minister said that an unfortunate incident happened and that he shares the pain of the families of the deceased and that there are no words to express the pain. He also informed that an investigation has been directed from all angles.
The government is with those who lost their family members in the calamity. Better treatment will be ensured for the injured. Modi also said that steps will be taken to ensure the safety of the citizens and he complimented the rescuers as well. The Prime Minister reached Balasore in an Air Force helicopter. He was accompanied by Union Ministers Ashwini Vaishnaw and Dharmendra Pradhan.
The tragedy happened near Bahanaga Bazar station in Balasore at 7:20 pm last night. The Coromandel Express, which was going from Shalimar in Kolkata to Chennai, was the first to meet the accident. It collided with the goods train. As the bogies overturned onto the next track, the Bengaluru - Howrah Superfast Express crashed into it. It is reported that there were about 1300 passengers in the Howrah Express which met with the accident. According to official government data, 261 people died and 900 people were injured. 17 bogies of Shalimar Express derailed. Four bogies were in an upside-down position and four bogeys were thrown off the track. Odisha Chief Secretary Pradeep Jena told the media that signal failure was the cause of the accident. Railway Minister Ashwini Vaishnaw has announced a compensation of Rs 10 lakh to the families of the deceased, Rs 2 lakh to those seriously injured, and Rs 50,000 to those who are slightly injured.