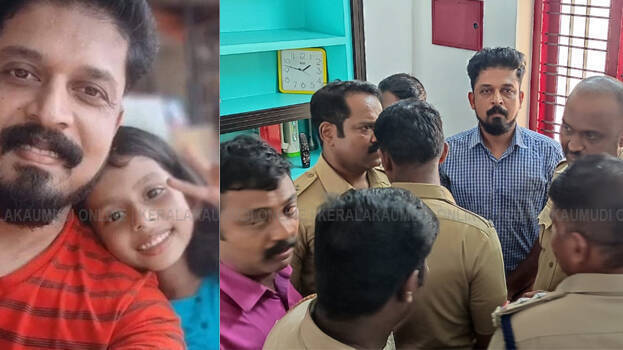 MAVELIKKARA: The residents of Mavelikkara still haven't recovered from the shock of the incident in which a six-year-old girl was killed by her father with an axe. Nakshatra was killed by her own father Sree Mahesh in Punnamoodu. Mahesh was cool when he was brought home for evidence collection last afternoon.

His hands did not tremble when pointing to the blood stains in the sit out where he hacked his daughter to death. He did not stutter. After entering the house, he was taken inside the rooms and near the sofa where Nakshatra was killed and evidence was taken. The collection of evidence and the forensic examination lasted until 2.30 pm yesterday.

Mahesh was brought to the house where the murder took place at 1.40 pm yesterday.
Three deaths in three years
There were three deaths in Mahesh's Anakoottil House in the last three years. All three were unnatural deaths. Nakshatra's mother Vidya committed suicide three years ago. Later Mahesh's father Sree Mukundan died after hit by a train and now Nakshatra. Mahesh, who was abroad, came home after hearing his father's death. He did not go back after that.
Call before murder
Nakshatra at times used to insist in meeting her mother's parents. The police said this may have led to the murder. The murder was committed under the influence of alcohol. Nakshatra had called Vidya's father just before she was killed. This may have led him to commit the murder.

Mahesh was upset after marriage was cancelled
Mahesh had decided to remarry after the suicide of Nakshatra's mother Vidya. His marriage was fixed with a police constable. He had renovated his house ahead of the marriage.

However, the constable withdrew from the marriage after understanding his character. When he annoyed her, she filed a police complaint against him. Mahesh was to appear in this case. His neighbours said that he was upset since the marriage was cancelled. On police interrogation yesterday, Mahesh agreed having an affair with another woman.
There was widespread protest towards Mahesh when he was brought to his house yesterday. A huge crowd was waiting to see the accused and they shouted at him. No untoward incidents happened as police tightened security.