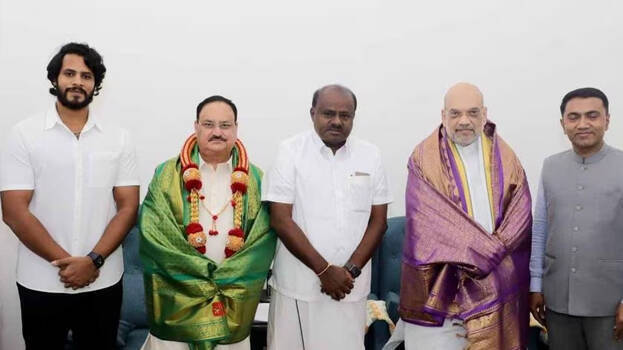 BENGALURU: The JD(S) erupted after its alliance with the BJP-led NDA. Following this alliance, several JD(S) Muslim leaders resigned including Syed Shafiullah, who held the position of senior vice president. Additionally, senior leader and former minister NM Nabi among others has also decided to leave the party. Mohid Altaf, the former Delhi representative N M Noor, the youth wing president Nasir Hussain Ustad, the former head of the minority wing and others are expected to depart from the party as well.
Syed Shafiullah expressed his discontent stating that despite being a secular party, the JD(S) is not pleased with its decision to join the NDA. He added that it's not just Muslim members but also Hindus who are unhappy with the party's choice. Furthermore, he accused the party of colluding with those responsible for pulling it from power. M Srikanth, the JD(S) president in Shivamoga has also tendered his resignation. The Kerala unit has also made it clear that it will not support the national leadership's decision to join the NDA.
This is not the first time the BJP and JD(S) have joined forces. They previously formed an alliance in 2006, resulting in a government in Karnataka. However, it collapsed after 20 months when Kumaraswamy refused to share the post of chief minister. In the 2019 Lok Sabha elections, Kumaraswamy aligned with the Congress but the BJP won 25 out of 28 seats in Karnataka while the JD(S) secured only one seat. In the last Assembly elections, the JD(S) contested with the BJP under a secret agreement but it did not yield favorable results for the JD(S) either.