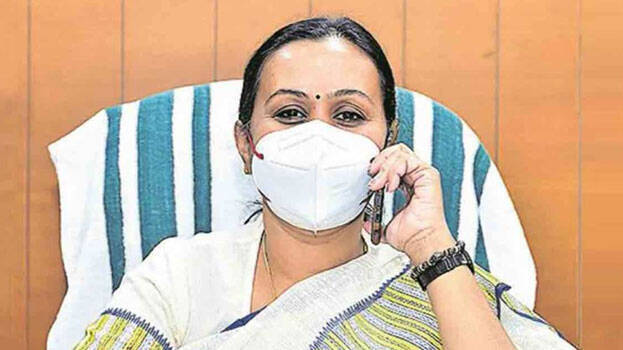 THIRUVANANTHAPURAM: The complaint about Minister Veena George's PA Akhil Mathew taking Rs 1.75 lakh bribe is turning into a hoax story. Lawyer Raheez, a native of Koyilandy who conspired in the incident, was arrested on Tuesday by the Cantonment Police. This is the first arrest in the case.
The first and second accused Akhil Sajeevan and Lenin are absconding. This confirms the minister's assumption about a conspiracy running behind the allegation. It was after many hours of questioning that the police decided to arrest Raheez. Complainant Haridasan's friend Basith and Raheez were interrogated together.
Raheez was found to have created fake emails bearing the names of Ayush Mission and the minister's private secretary. The police also seized the phone used for this. Raheez also forged a letter in the name of Health Kerala. The police also found that he had financial dealings with Akhil Sajeev.
Akhil Sajeev's phone was also used by Raheez. This phone will be sent for detailed inspection. The investigation team tried contacting Haridasan, but his phone was reportedly switched off.
The investigation is being conducted in parallel with Haridasan's complaint and the complaint filed by Private Secretary Sajeevan to the DGP stating that fraud is being committed in the name of the minister's office.
It was also revealed that Haridasan did not come to the minister's office on April 10th. The story of bribery was purportedly 'weaved' through characters like Basith, who is Haridasan's friend; Akhil Sajeevan, former secretary of the CITU office in Pathanamthitta, and Lenin, a lawyer from Kozhikode.
Haridasan, who initially said that he reached the secretariat and handed over the money to Akhil Mathew, later backed out from this claim.
The footage of the wedding ceremony and the location of the mobile tower as scientific proof confirmed that Akhil Mathew was in Pathanamthitta on April 10, the date Haridasan claimed to have handed over the money.
On April 10th, the CCTV visuals confirmed the presence of Haridasan near Secretariat Annex 2, but there is no CCTV footage showing him meeting Akhil or giving the money. It was under this backdrop that the police showed strong suspicion about the culprits weaving a fake story to incriminate the minister's PA and taint the overall repute of the government.