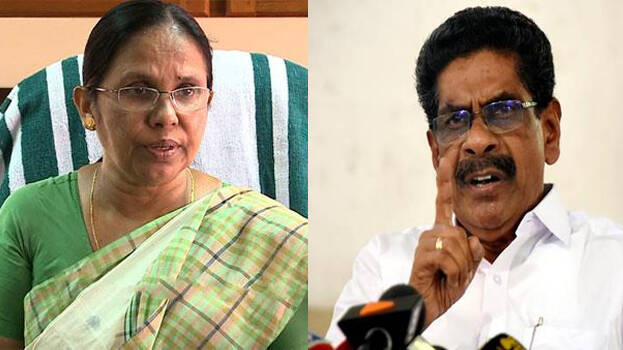 THIRUVANANTHAPURAM: KPCC president Mullappally Ramachandran has said that he stands firm on his controversial remarks on health minister KK Shailaja. He said he didn't insult anyone and his statement was twisted.
"A part of my statement was trimmed and used for the campaign. I said the health minister shouldn't be credited unnecessarily for the Nipah fight. That was true. I stand firm by it. What's wrong in calling the health minster as 'rani'(queen) or 'rajakumari' (princess)?", Ramachandran asked.
"The health minister didn't do works worthy of appreciation. A British newspaper called the minister 'rock dancer'. Like any other minister would do, the health minister only chaired review meetings at the guest house. I was an active presence at the constituency during the Nipah outbreak. There is proof of that. Health workers should be credited in the Nipah fight. Crown of that success won't be allowed to wear by someone else", he added.
"I made 'rani' and 'rajakumari' remarks on the health minister due to this. I stand firm by it. I never made remarks against women. I am a politician who always stands in the forefront for their upliftment", Ramachandran said.
"Not even CPI (M) activists would raise complaints on my works during the Nipah outbreak. During that time I summoned a meeting of lawmakers in which CPI (M) district secretary P Mohanan also took part. Allegations made by Lini's husband against are wrong. I called Lini's husband Sajeesh from a local leader's phone. Back then he said I was the first politician to call him. It's not right to change the statement now", Mullappally Ramachandran said.