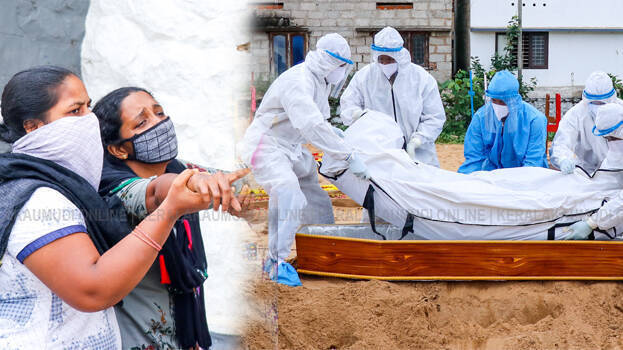 THIRUVANANTHAPURAM: The state government has eased covid 19 regulations for the burial of those who succumbed to Covid 19. "In the revised guidelines, the relatives are allowed to see the face of their dear ones, following the strict guidelines, before their dead bodies are buried," health minister K K Shylaja said. Security guards will be allowed to unzip the cover of dead bodies on the request of close relatives of the deceased persons. Department of local bodies administration has issued SOP for handling such dead bodies and special guidelines for managing dead bodies.

It anybody dies due to Covid 19, there are higher chances for the rapid spread of the virus from the corpse. Therefore, people should not be allowed to see the dead bodies directly and gather in crowds. "Everbody should strictly follow the revised guidelines in order to prevent the rapid spread of the pandemic," the minister said.

The dead bodies of those who succumbed to Covid 19 should be seen only at a certain distance. After keeping a certain distance, religious scriptures could be read and all related customs could be observed without touching the body. Under any circumstance, the dead body should not be touched, cleansed or kissed. Those above 60 and below 10 should not have any direct contact with the dead body.

Only a few should participate in the cremation grounds and those who participate in it should keep a certain distance from each other. In order to prevent infection spreading from the corpse, the body should be buried in a deeply dug out pit. The supervision and guidelines for this purpose must be given by the health inspectors in the region concerned.

If a patient dies off due to Covid 19, then the trained hospital staff should pack the dead body in triple layers and the dead body should be sterilized and kept in a special place. Hospital staff has been given special training for this purpose and those who keep close contacts with such dead bodies should wear PPE kits.

The dead bodies should be taken to the burial ground with enough preparations and assisted by trained health workers. After the burial, the structure and the vehicle in which the body was transported should be properly sterilised. The duty days and off-days of those working in the cemetery should be recorded in a registry. The crematorium staff and those who take part in the last rites should follow the covid 19 protocol guidelines.