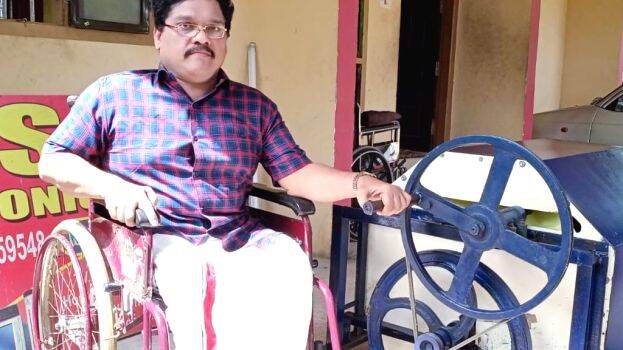 CHANGANASSERY: Ajikumar was left with a paralyzed body due to faulty treatment for the fifth disease in his childhood days. He who never had even primary school education has now built his own power plant by sitting in his wheelchair. The plant which was developed through ten years of hard work is called the Human Electro-Magnetic Power Generating System.
During power outages, electronic appliances in Ajikumar's house including fans work on the energy produced by this plant. It can now work for five and a half hours continuously. The aim is to generate electricity 24 hours a day.
Ajikumar, who has already spent lakhs of rupees, needs the help of the government or other agencies to continue the experiment.
As there is no fuel, the plant does not cause pollution. Ajikumar describes it as an eco-friendly power plant. He is also helped by his wife Sindhu and children Abhijith and Sthuthi.
Ajikumar's life at the Arakkamattom House at Changanassery Thuruthi was full of pain. At the age of eight, his body became paralyzed. He had to spent his childhood and adolescence in hospitals.
He learned many things from his brother, who works with electronics. The first creation was an amplifier made to amplify the sound of Walkman.
Specially made dynamo and dc motors are also important parts. Parts such as transformers, flywheels and pulleys are designed by Aji himself.
When the pedal of the machine is rotated by hand, the inner flywheels rotate several times faster. At that power, the dynamo's current in the machine drives several motors through a recharging system. The dynamo also works strongly on the power of the motors and the power generated is supplied through the cable.