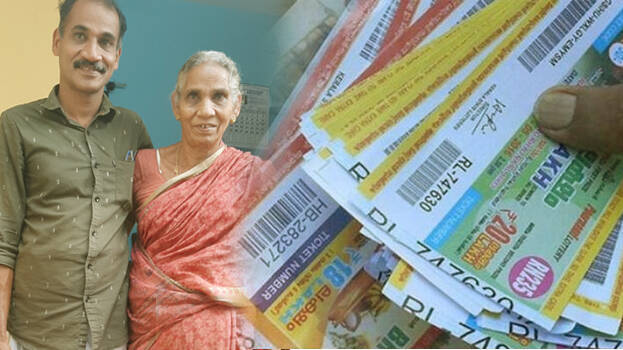 CHERTHALA: Winning a major lottery prize is a dream for many and it has come true for this mother and son not once but twice. A son, who went to receive the prize money of Rs 500 for the ticket bought by his mother, took tickets for the money and got a fortune of Rs 75 lakh.
M Vijimon (46) won the first prize of Win Win Lottery of the state government. The first prize winner is ticket number WJ-693433 which bagged a whopping Rs 75 lakh. The results were announced on Sunday.
His mother Padmavally got Rs 500 for the Karunya lottery she had taken. She gave the ticket to his son and asked him to collect the money. When he went to Akshaya Lucky Centre at Vadakke Angadi with the ticket, the agent had no money to give him. Instead he gave three Win Win Lottery tickets of Rs 40 each. When he came to collect the balance amount in the evening he came to know that he bagged the first prize. He got consolation prizes of Rs 8,000 each for the other tickets.
The prize ticket was handed over to Cherthala Urban Bank. Padmavally's husband Mohanan died one and a half years back. He was running a small shop near the Wayalar Bridge. They usually buy a lottery ticket when the vendor comes with it.
Vijimon is a driver at a private firm in Kumbalam. Nisha is his wife and Nayana and Nandu are his children.