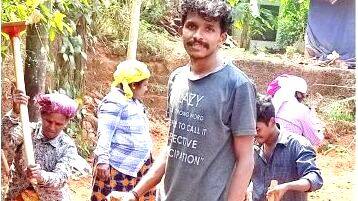 KANNUR: Apart from being a research scholar, Sayanth from Ambedkar Colony in Puthiyatheru's Kunnumkai is writing a new chapter of hard work by doing work under the employment guarantee scheme. Sayanth completed 75 working days this year in the employment guarantee work yesterday, thus completing employment guarantee point.
Sayanth, a Malayalam M.Phil student of University College, Thiruvananthapuram, is returning to his academics. There are a lot of people who scoffed when this young man with that much education went to work under the employment guarantee scheme. Those chatters were silenced through his hard labour.
During the lockdown, with his peers, a group called Vijnanavadi was formed to teach children. Due to the spike in Covid cases, this had to be stopped. Knowing that young people also have opportunities in the employment guarantee scheme, 12 people, including Sayanth and his friends, went to work with a spade. Despite the initial difficulties, the undertaken work was completed perfectly.
Sayanth's father K Sudhakaran and mother K Sheeba are daily wage labourers. His sister K Shishira completed her M.Com from Brennan College.
'I want to complete my PhD and become a college teacher. In the meanwhile, I will do whatever decent work I have to do, regardless of my education", says Sayanth.