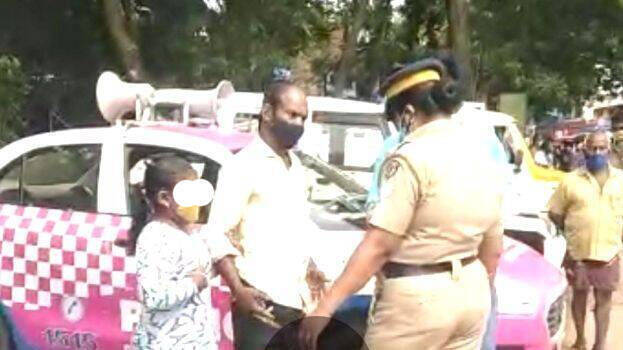 THIRUVANANTHAPURAM: A woman cop was transferred for humiliating a third-class student and her father accusing them of stealing her mobile phone. The two were harassed in front of the people gathered there. Rajitha, the official of Attingal Pink Police was transferred to SP Office. More departmental action is likely to be taken against her.
Attingal DySP who investigated the incident, handed over the report to rural SP. The report has recommended action against the woman cop. Special branch's report was also against them. The report said the policewoman was overenthusiastic and careless. The report also asserted that the child's father Jayachandran had earlier handed over a lost phone. The owner of the phone had given him a reward of Rs 1000/.
The pink police insulted the father and daughter last Friday at Attingal Junction. The child rights commission collected her statement after the video went viral. The Attingal circle inspector registered the statement on the complaint of Jayachandran.

The dramatic incidents happened on Friday evening at 3 pm at Moonnumukku in Attingal. Jayachandran and his eight-year-old daughter Devapriya, who live in a rented house in Mankattumoola Kottara House, were on his bike to see the movement of a massive cargo, containing a settling chamber for the trisonic wind tunnel being constructed at the VSSC in Thumba. They stood near the place where the vehicle of the Pink Police was parked. At this time, Rajitha came near them and shouted at the young man for stealing the mobile from the police vehicle. She pictured him as a thief in front of the people gathered there. The people gathered there first believed it. The child started crying seeing the incident.

A youth who was shooting the whole incident from the beginning came forward when the police were trying to take the father and daughter to the station. The police shouted at the youth when he termed the incident as inhumane. The youth asked the woman cop to try her number from somebody else' phone. When another woman cop tried her number, the phone was found in the police vehicle itself. However, the police fled the place without tendering an apology.