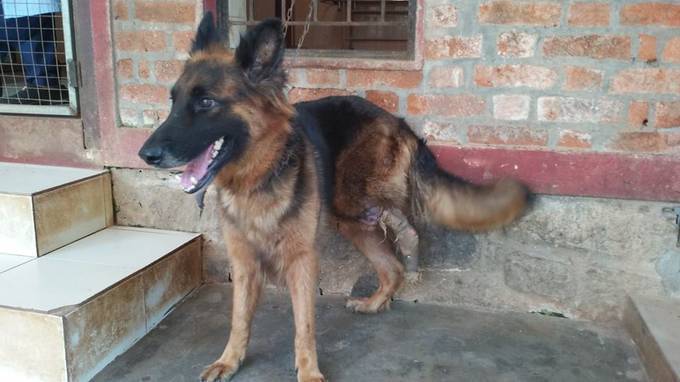 Seldom are pet adopters kind enough to adopt a handicapped dog. But, the life of Heidi, a 'three-legged' German Shepherd at People For Animal's (PFA) shelter took an unexpected turn the other day when she had a final saviour; she was lovingly adopted by a kind-hearted youth from Nedumangadu.

Heidi is a beautiful pure breed pooch around 3-4 years old; she is friendly and well-behaved. She was found abandoned by the roadside at Poojappura on March 8. The PFA rescue team, on being informed, picked and brought her to the shelter on that day itself.

The hapless dog was found to be in severe pain, starved and depressed. She had an open fracture on her left hind leg, treated (or managed by a quack or the owner himself) with a faulty Plaster of Paris cast. The cast was too tight, strangulating the blood vessels of her leg and it ended up in necrosis of the leg (death of the tissues). In great agony, she had herself ripped her paw. After messing up so much with her body, she was dumped, perhaps to die, by her callous inhumane owner, for no fault of her own.

After bringing her to the shelter, she was given first aid and the treatment for the leg started. The treatment continued for some days but, in order to avoid generalised septicemia setting in and endangering her life, the medical team at the shelter's clinic had no other option but to amputate her affected leg.

It is very difficult for an adult dog weighing around 30-35 kg to balance on three legs. But she started walking on her three legs from the very next day of surgery.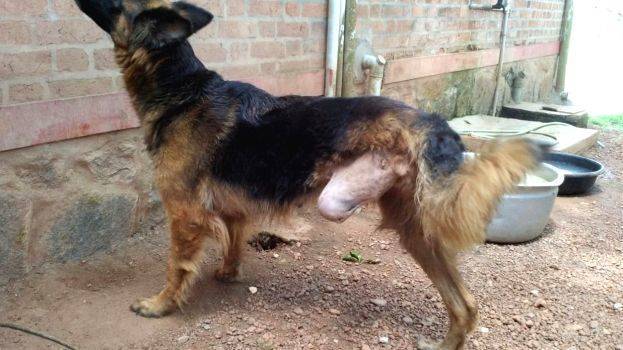 She gradually recovered from all the physical and emotional trauma even with the limited attention and care that a shelter, with more than 100 rescued dogs apart from cats and bulls, could give. She soon became the brave darling of the staff and volunteers at the shelter. She was given that nice name Heidi, which means nobility or noble birth.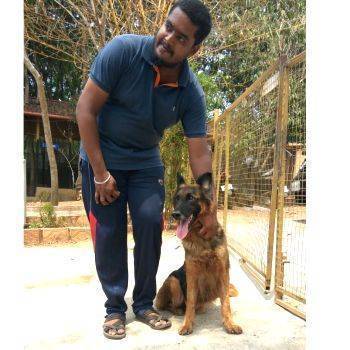 Manikandan had seen the story of Heidi on PFA's Facebook page and decided that she should be a part of his family. He drove all the way from his home to the PFA's Valiyarathala shelter on April 3, spent some quality time there, patting and comforting her. She is such a friendly well-mannered dog that she started showing her trust in him in no time and stayed near him calmly.

When it was time for the doctor, nurse and other staff at the shelter to say good-bye to Heidi, it was "wrench" for them, who had given her a fresh lease of life and hope to live. She, of course, was a bit hesitant to leave the shelter. And, finally, the staff helped her into the car after a lot of pampering.
"Our dear Heidi had stolen our hearts with her gentle and loving ways… She too seemed to have accepted our shelter as her home and was reluctant to leave. Usually, she would jump into our ambulance happily, but when she was led to Manikandan's car, she kept circling his vehicle as if she could sense that it was farewell time. We had to put her into the car after which, an obedient gem of a girl that she is, sat quietly as she left with her future family... Bittersweet moments will linger in our hearts for a long while...(sic)," recalls Dr. Sindhu.

"In the short time that she spent with us, in spite of the pain and trauma she had gone through, she was always dignified and elegant. Let's hope that in her new home, she will be treated as she deserves to be: like a princess," says nurse Manju who assisted the vet in treating Heidi.

PFA, which runs the shelter purely based on donations, are engaged in rescuing and treating wounded animals and abandoned pets. It also takes up sterilization for dogs/cats and conducts frequent adoption drives.

"Dozens of dogs are awaiting loving homes like Heidi at PFA shelters in Thiruvananthapuram. We would be grateful if more people come forward to adopt dogs from here..Why should they buy when they get it here for free?" quips PFA manager Gokul.
PS: Street Dog Watch Association is another such organisation at Kovalam, which focuses on the Animal Birth Control programme and adoption drives.
PFA: https://www.peopleforanimalsindia.org/
SDWA: http://streetdogwatch.org/