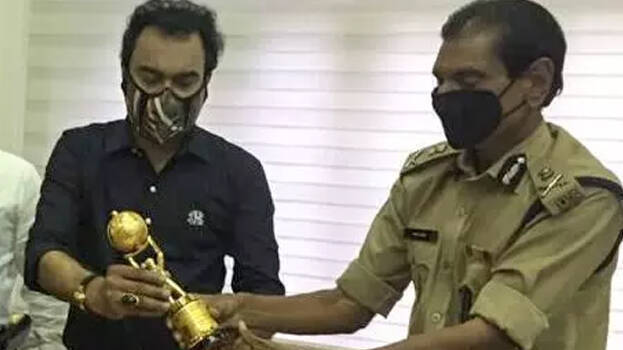 KOCHI: The crime branch probing the antiquities fraud case of Monson Mavunkal, has recorded the statement of the state police chief Anil Kant. Monson called on the state police chief at the police headquarters soon after he took charge. Monson arrived with the officials of the Pravasi Malayalee Federation. There were six people in the group. Anil Kant told the investigating team that he gave permission to see him as office bearers of the Pravasi Malayalee Federation.
Before leaving Monson presented Anil Kant a gift and took a picture of it. The crime branch found that the six people posed with the DGP but the other five were deleted from the picture and the final pic had only the face of Monson and the DGP. The crime branch will submit a detailed report in the high court today.
In the meanwhile, it has been informed that Monson used his police connection to get accommodation in the police club. Many evidences of Monson's high-profile police involvement had surfaced earlier. The crime branch had yesterday recorded the statement of former police chief Lokanath Behra, ADGP Manoj Abraham and IG G Lakshmana. Lakshmana's statement was recorded by the crime branch. The questions were sent via e-mail and the answers were received by the head of crime branch, S Sreejith.
Behra explained the situation of arranging police security by installing the beat box in Monson's houses at Kaloor and Cherthala. Behra asserted that he visited Monson's museum not by the compulsion of anybody, went there after seeing a post on social media. His statement said that he had directed the intelligence then to probe as he found something fishy. The pictures of Behra and Manoj Abraham examining Monson's antiques had surfaced earlier. Monson had used these pictures for his fraud.
Lakshmana is facing serious allegations including attempting to sabotage the investigation into a financial fraud case registered against Monson in Pandalam. The first plaintiffs also levelled serious allegations against the IG. Phone conversations earlier revealed that Monson had financial dealings with the IG. Anitha Pullayil had informed the IG about Monson's arrest. Based on this information, the crime branch recorded IG's statement. The situation of visiting Monson's house was collected from Manoj Abraham. It is heard that statements were taken from other accused police officers.